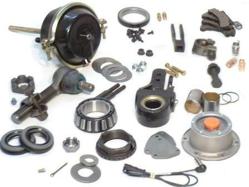 The secondary industry is used to supply parts no longer in production or that have no distribution outlets.
Columbus, OH (PRWEB) June 08, 2013
Manufacturers of vehicles use multiple sources of production when building modern automobiles. Owners of vehicles or mechanics replacing OEM parts can find different parts installations that vary in quality and price. The http://autoprosusa.com company is now supplying aftermarket car parts for domestic and import vehicles. These parts offer OEM designs and are produced by third party manufacturers. A reduced price is now paired with all consumer sales to provide a cost effective replacement solution online. In addition to aftermarket units, preowned parts can be found for the majority of car brand parts in stock.
Domestic automakers like General Motors and Ford Motor Company now produce parts in different locations of the world. The parts distribution network set up through these companies provides dealerships and authorized sellers with an OEM parts source. The secondary industry is used to supply parts no longer in production or that have no distribution outlets.
Because availability can vary between sellers, locating parts for immediate replacement can be one challenge presented to a person searching for parts in rural areas of the country. The aftermarket vehicle parts additions by the Auto Pros USA company are designed to increase selections that buyers can choose from entirely online.
Better agreements with trusted supply companies have made inclusion of the secondary parts possible. Performance, preowned and aftermarket suppliers are now represented in the company database searchable by buyers. The basis of all parts searches on the AutoProsUSA.com website is the year and make of each part.
The search tool created is able to supply a match using this criteria and offers price quotes to buyers from more than one supplier. These innovations on the company website have virtually eliminated the need for manual quote processing by the company auto parts specialists who provide customer service by phone.
Customers who take advantage of the import and domestic parts provided for sale are eligible to receive parts warranties with all purchases. This incentive is now combined with the better freight policies that were negotiated earlier this year. The attachment of a parts warranty now provides up to a period of 24 months of protection after an installation occurs. Each supplier now handling auto parts fulfillment in the U.S. supplies this standard edition coverage. The same day order processing that is now part of each sale is supplying customers with faster methods to obtain parts compared with third part sales or drop shipped units online.
About AutoProsUSA.com
The AutoProsUSA.com company builds its buyer network on a daily basis to include better options for parts research and maintain faster delivery schedules for buyers inside North America. This company created its unique method of parts distribution as an alternative to using retailers in local areas unable to provide adequate stock for parts buyers. The AutoProsUSA.com company is managed by professionals in the automotive business and new features are consistently added to the company database to make buying replacement parts faster and simpler. The launch of this website in 2012 helped to introduce the concept of quoting prices for parts online.