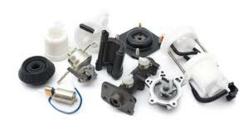 These parts are matched and can be quoted in price at the click of a button.
Wichita Falls, Texas (PRWEB) June 07, 2013
The parts market for pickup trucks usually varies in price and availability due to distribution agreements with suppliers. One company selling replacement parts online is now helping to change the way that parts are acquired. The AutoProsUSA.com company is now selling preowned condition aftermarket truck parts to buyers. These parts are stocked from a number of different manufacturers at http://autoprosusa.com/used-truck-parts-for-sale. The quality of the parts that are up for sale remains in excellent condition due to supply arrangements in the U.S. Introductory parts pricing is now included with these parts online.
OEM parts are produced by automakers and used in vehicle manufacturing. These companies control the distribution and licensing of blueprints to manufacture parts. The aftermarket industry has expanded for both import and domestic automaker parts. The craftsmanship and engineering that takes place ensures that the OEM specs are followed to produce longer lasting parts for replacement.
The used components for pickup trucks now in the Auto Pros inventory are in combination with other part types included this year. Parts for passenger cars, sport utility vehicles and luxury cars now complement the new additions of aftermarket parts.
The AutoProsUSA.com searchable database is one of the inclusions now on the company website. The consumer access to the database is now paired with a parts finder online. This new parts finder allows easier searching for parts year and make. This programmed search tool locates suppliers in the company database with current parts that are in stock. These parts are matched and can be quoted in price at the click of a button.
The quotes that are found through this system are delivered online or through a series of external methods. Parts buyers making use of the company website for research or purchases now have multiple tools to use.
The marketing now used by the AutoProsUSA.com company online includes on-site and third party solutions to provide more access to parts buyers. The use of streaming videos online are now a solution used to help educate parts buyers searching for particular parts in stock. Many of the parts that are listed for online sale in the company database are now in video form. The YouTube channel at http://www.youtube.com/watch?v=_Gp4Ziu2QWM features many of the created videos to help introduce the inventory currently available. The ways of ordering and making contact with company specialists are discussed to help buyers reduce time spent for parts research on the Internet.
About AutoProsUSA.com
The AutoProsUSA.com company supplies U.S. parts buyers with a range of options for ordering preowned parts online. This company has linked its database with parts suppliers able to fulfill in stock orders. The quality of parts listed for sale includes good condition parts that are offered as alternatives to those found through auction sellers online. The AutoProsUSA.com company employs talented workers who provide the levels of parts customer service that are not found through all retailers selling online. From an easy to use contact form online to a toll-free number, this company supplies multiple methods for buyers to receive inventory information with little effort.