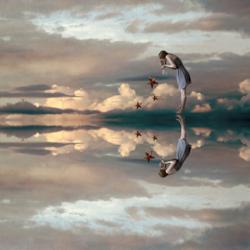 Afton's surreal fine art prints are available in custom sizes by request.
Lakeland, Florida (PRWEB) January 23, 2012
Afton Dufoe Photography, in association with The Artisan Group, will be featured on February 24-25, 2012 at a luxury Gift Lounge hosted by GBK Productions at The W Hotel in Hollywood, California, in honor of the 84th Annual Academy Awards Nominees and Presenters.
All attending celebrities will receive a signed 5x5 "Keeper of the Stars" fine art photography print from Afton Dufoe Photography in their swag bags.
ABOUT AFTON DUFOE PHOTOGRAPHY
Lindsey Afton Dufoe creates photos to express her belief in the need for magic in the world. She specializes in merging surrealism with self portraiture. The infinite potential of fantasy has fascinated her since childhood and never fades.
Afton's work is inspired by nature, adventure, fairy tales, and the unexplainable. She still vividly remembers many of her favorite childhood books and films and often subconsciously refers back to them for inspiration as well. Afton loves that the clouds and sunset are uniquely beautiful each day and applies this to her work. Ultimately, she strives to paint with photography what doesn't physically exist but should.
Some of Afton's most popular self-portraits include "Ghost Reflection," "Cloud Painting," and "Escape Plan." Afton's surreal fine art prints are available in custom sizes by request.
Afton Dufoe Photography recently gifted Hollywood actress Zooey Deschanel with a framed fine art photography print through The Artisan Group.
In addition to her Print Shop on Etsy, Afton's prints are available through ARTpool Gallery in St. Petersburg, Florida. Her work was recently published in Get Inspired Magazine and Apricot Magazine.
###