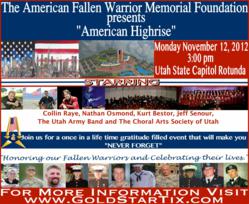 Lawrence, Kansas (PRWEB) November 08, 2012
The American Fallen Warrior Memorial Foundation is honored to announce a very rare and historic ceremony/tribute for the state of Utah. Presentation of the historic Presidential Inaugural Artwork "American Highrise" print with presidential seal will be presented to the State of Utah and the families of the "Utah6" during a star-studded ceremony to be held at the Utah State Capitol Rotunda on November 12, 2012. Country Music Stars Collin Raye and Nathan Osmond (AFWMF spokesperson) will perform along with acclaimed musician/composer Kurt Bestor, musician Jeff Senour and musical selections by the Utah Army Band and Choral Arts Society. Special guests in attendance will include Military Officials, Government Officials and Gold Star Families from 5 states. Mr. Jed Boal from KSL News will be the MC for the event.
After hearing the story of the inspiration behind the AFWMF, Presidential Inaugural Artist, Richard Daniel Clark, made an offer to us in honor of the Nation's Gold Star families, the State of Utah and our "Utah6". The "Utah6" are Six Fallen Warriors from the state of Utah and their families who inspired the founders of the AFWMF to move forward to raise money to build the GoldStarWall. Mr. Clark has graciously offered to present the "Utah6" and their families with this rare and historic piece of Americana, the "American Highrise" art piece. He has also offered on behalf of the AFWMF to present the Presidential Seal art piece to The Executive Director of the Utah Department of Veterans Affairs, Mr. Terry Schow on behalf of the state of Utah and Brigadier General Dallen S. Atack of the Utah Army National Guard in honor of Utah's involvement in this historic Memorial project. Currently four signed copies with the Presidential Seal reside in the State of Utah. One was presented to the Stevenson family in 1991 on behalf of their son, LCpl. Dion J. Stephenson, KIA 29 January, 1991. The "American Highrise" can also be seen in Bountiful, Utah hanging at City Hall. President Monson of The Church of Jesus Christ of Latter Day Saints owns the third and President Benson was also personally presented with the piece. To see this beautiful historic piece of art please visit: http://www.ownamericanhighrise.com
"American Highrise" created by Richard Daniel Clark received the once in a lifetime honor of becoming the art to mark the 200 year Inaugural for President George H.W. Bush. This piece is a once in every 200 years piece of historic Americana. What started as a doodle on an American Airline napkin in 1977 is destined to be one of the most widely distributed and accepted pieces of art in recorded history and is the only piece of Americana that has been accepted by seven American Presidents from Richard Nixon to George W. Bush. It has also been gifted to many distinguished people and entities including the Emperor and Crown Prince of Japan, the Statue of Liberty Monument and several Nobel Peace Prize recipients including Nelson Mandela, Dr. Henry Kissinger, Bishop Desmond Tutu and President Lech Walesa. Other distinguished recipients include His Holiness Pope John Paul II, His Holiness Pope Benedict XVI, Prince Charles the future King of England, Neil Armstrong, Army, Navy and Air Force Academies, N.O.R.A.D., General Powell and General Schwarzkopf, Margaret Thatcher, US Military bases, Navy ships and most recently aircraft carriers including USS Ronald Reagan and USS George H.W. Bush, the Governments of 110 Nations, the Library of Congress and Presidential Libraries. General David Petraeus referred to it as a "National Treasure."
In addition to presenting the artwork, a presentation of replicate American Fallen Warrior Memorial Foundation plaques will be presented to 5 Gold Star Families from Utah, Kentucky, Idaho and Nevada. The Founders of the AFWMF will present plaques with the assistance of Mr. Richard Daniel Clark and Brigadier General Dallen S. Atack of the Utah Army National Guard and other Military Officials.
This is a FREE public event. Seats are limited and on a first come first serve basis. Information and VIP tickets for the November 12, 2012 event are available at http://www.GoldStarTix.com. AFWMF CEO/Founder Tonya Evans stated, "This will be a historic event honoring Fallen Warriors, their families and the great state of Utah." Nathan Osmond stated, "I'm excited to be a part of this presentation honoring Gold Star Families. I have a passion for our military and have written songs honoring their service."
The AFWMF was founded in March of 2011 with the mission to honor all Fallen Warriors from the Gulf War to present date including PTSD/suicide. We will do this by building the largest Memorial in US history displaying the faces of over 7500+ of Americas Finest. Please visit http://www.GoldStarWall.org to see the Memorial project. The inspiration behind this $30 million project came from a promise made to 6 Fallen Warriors and their families from the state of Utah. We call them our "Utah6". You can read more about them and our story at http://afwmf.org/our-inspiration/. We would like to recognize and thank our generous sponsors of this event which include QirraSound Technologies, LLC http://www.QirraSound.com, Chapman Security Investigations http://www.Chapmansi.com and Trax AV http://www.TraxAv.com.