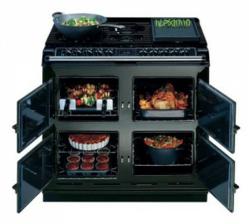 AGA Their kitchen ranges are custom designed to be the right size and produce the right temperature and type of heat for a huge variety of applications, and are made with interchangeable parts so one can get exactly the functionality needed.
(PRWEB) July 26, 2012
HomeThangs.com – the Home Improvement Super Store has made their goal to deliver the right product to the consumer, with that in mind, shopping and home design tips, as well as special product selections are being introduced.
The average kitchen is full of cooking appliances – from standard ovens and ranges to microwaves, toasters, slow cookers, grills, rotisseries, deep fat fryers, steamers, and toaster ovens. For every type of cooking and every kitchen application, there's a unique piece of machinery to do the job. AGA seeks to consolidate all that functionality into a single appliance. Their kitchen ranges are custom designed to be the right size and produce the right temperature and type of heat for a huge variety of applications, and are made with interchangeable parts so one can get exactly the functionality needed.
1. AGA's kitchen ranges have a vintage flair to them, with tons of small doors and drawers and brightly colored enamel finishes, arranging several different, specialized ovens around a central heat source. Outwardly, their ranges more strongly resemble vintage ovens than shiny modern appliances, but even the most wood stove-styled of their ovens such as Pro-Style Broiler ALEBS36-DFCD-VWT are made with sophisticated heating technology.
2. AGA's kitchen ranges, such as Pro Style Range ALEG44-E for example, are made of smaller cast iron oven units centered around a primary heating source, typically gas, though this model has an electric range. Each smaller stove is designed to transfer heat in a specific, targeted way to create a variety of heating environments in a single appliance. All the ovens are heated by a central burner that transfers heat via cast iron plates to the individual ovens, without any heating elements in direct contact with the food. This provides an incredibly precise, even, radiant heat that cooks the food naturally and consistently, and with a great degree of control over the temperature.
3. AGA's kitchen ranges can be completely custom designed to a customer's needs, mixing and matching parts to help replace existing appliances.
There are several oven compartments available:
a. a medium sized oven that produces an even, moderate, all-around radiant heat that's perfect for getting a golden, flaky crust on pastries, and even, moist cakes and casseroles. This is one of the ovens that come standard on most AGA kitchen ranges, including compact models such as AGA Dual Fuel Range with 4 Burners And 2 Electric Ovens ACMP-LP
b. many AGA kitchen ranges include a roasting oven, such as Pro Style Range ALEG44-DF. These are about the same size as the baking ovens, and produce an even, flameless and coil-less heat that cooks evenly and won't dry out meat. The roasting oven cooks quickly, and can cook a 28 lb turkey start to finish in just 3 1/2 hours. The cast iron interior of the roasting oven gets quite hot, which means it can also double as an indoor grill, giving a crisp char to meats and vegetables alike when used on high heat
c. a simmering oven on AGA kitchen ranges such as Cast Iron Dual Feature A64-LP can replace a slow cooker, producing an extremely consistent, low heat and cultivating a moist environment that's perfect for breaking down tough meat over a long cook time. One can safely leave it on all night long, just like a slow cooker, but with a much higher capacity and without wasting valuable counter or cabinet space. The simmering oven also dual purposes as a steamer, as the gentle heat is perfect for steam cooking vegetables, especially root vegetables, without an extra bulky appliance or using up a spot on the stove.
4. AGA kitchen ranges feature a rapid-responding ceramic grill-style gas stove and specialized plates that produce a very high, very even heat that's perfect for searing meat, stir frying, or deep frying. While many conventional stoves don't get hot enough for a genuine stir fry, AGA kitchen ranges are designed specifically to rapidly produce, maintain, and withstand very high heats. Many of them can even be used as grills, and some, like S-Series 6-4 A64-NG, come with an additional cast iron griddle for breakfast foods.
Like the increasingly-popular double oven, AGA's kitchen ranges provide significantly more functionality than an average oven, but only take up a fraction of the space. Even a simple, totally average sized oven offers as many as four different cooking "zones" in a single unit, plus the whole range configuration on top. If that still isn't enough cooking capacity, one can double up and get a modular secondary smaller unit, like ACMP-NG 4×2 Modular Range.
With almost infinite customizability, preparing large meals is easier than ever. One won't have to juggle the oven between many multiple dishes, because each dish will have its very own oven. And because each and every one of AGA's kitchen ranges is hand built and finished in a color of choosing, it will not only declutter the kitchen, but make it look beautiful as well.
HomeThangs.com is not only a home improvement superstore, it also provides expert design tips and a comprehensive shopping guide, taking the ideas from professional interior designers, and offering tips to the consumers on how to pick the products to best suit their needs.