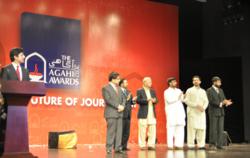 The winners of the AGAHI Awards 2012 showcased counter-narratives discouraging radical mindset in Pakistan.
London, UK (PRWEB UK) 1 April 2012
Agahi Awards are Pakistan's First Journalism Awards, aimed at recognizing the country's best journalists. These awards were organised by Mishal Pakistan in collaboration with the leading press clubs across the country, local and international media development bodies, regulatory authorities, the private sector and other stakeholders.
Puruesh Chaudhary, President for AGAHI and Ambassador on Media Ethics with Center for International Media Ethics (CIME) said the initiative was launched as essentially an effort to raise the standards of journalism in the country, creating a new crop of correspondents and editors who can develop counter-narratives to offset extremist ideologies and work towards greater peace and harmony in Pakistan.
Amir Jahangir, CEO Mishal and Young Global Leader with World Economic Forum, emphasized on creating Media Development Fund in Pakistan promoting investigative journalism and quality content.
The presidents of eight of the leading press clubs in Pakistan on a platform in encouraging raising journalistic standards in the country comes as an unprecedented move.
The winners of the AGAHI Awards 2012 showcased counter-narratives discouraging radical mindset in Pakistan.
The judges panel comprising of some of the most senior media professionals from around the world assessed the entries submitted by journalists from all over the country in over 15 different categories including business, economy, conflict, corruption, crime, education, infotainment, the nexus between water, energy and food security, gender and governance.
In addition issues like human rights, interfaith, judiciary, media ethics, terrorism and extremism have also been included to create more awareness for social issues affecting society. A special People's Choice category was created for the most favorite current affairs anchor and news channel.
In the People's choice category the award for the most Favourite Current Affairs Anchor and News Channel went to Hamid Mir of Capital Talk and GEO News of the Jang Group.
Haroon Baloch of Rohi TV bagged three awards in the categories; conflict, crime and environment. Haroon Baloch has been commended by the judges as one of the most effective content producer on the blogging sphere in the context of the evaluation criteria over which he was assessed; along with his ability to converge traditional media content over new media.
Mohammad Ali Khan on Business and Economy, Idrees Bakhtiar and Mohammad Ali Khan on an exclusive piece on Corruption in Herald, Saadia Khalid on Education, Mubarak Zaib Khan on Energy, Water and Food Security nexus, Fazal Khaliq on Gender, Mashkoor Ali on Governance Ibrahim Suheyl on Health, Ali Usman on Human Rights, Usman Ghafoor on Infotainment, Naveed Nasim on Interfaith for his documentary on Gojra Riots, Asad Kharal on Media Ethics, Zaheer Chaudhry and from Balochistan Matiullah Achakzai in Photo-Journalism, Waheedullah Afridi on Terrorism and Extremism.
Arif Rana from Express Group, won the award for the best Investigative Journalist 2012; for his extensive work on issues related to corruption and governance.
Arshad Sharif from Dunya TV; was recognized for his contribution on Pakistan's war against terrorism and his counter-narratives on undermining radical ideologies.
Mishal launched a series of media development initiatives and helped journalists interact with each other through knowledge-sharing platforms. It also encouraged them to introduce new perspectives and produce diverse and pluralistic content to reduce intolerance in the society.
Members of the AGAHI team have worked with likeminded institutions to enhance the impact of these capacity building initiatives. It has established linkages and collaborations with leading knowledge centers from across the world. They have collaborated with different press clubs and media associations in the country and have always encouraged journalists to launch similar initiatives on their own.
For more information on AGAHI Awards Winners, the evaluation committee, and the judging criteria please visit: http://www.agahiawards.com