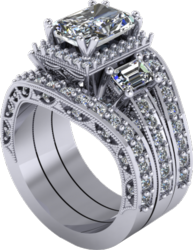 At AGAPE Diamonds we take pride in the design, manufacture, and distribution of our unique line of Lab Created and Simulated Diamond Jewelry.
Tampa, FL (PRWEB) April 17, 2013
Agape Jewels Corporation, manufacturer of fine jewelry and the sole distributor of the AGAPE Diamond®, The World's Finest Simulated Diamonds®, announced that its Online Sales operations hit an all-time high in 2012. By pricing their Simulated Diamond Jewelry at 200% - $300% less than other designers in the industry, AGAPE is quickly becoming the premier seller of Bridal Engagement rings in the US.
"Agape Diamonds' growth in sales through our online websites, DiamondsLabCreated.com, ManMadeDiamondsUSA.com and BrilliantDiamonds.com, coupled with our expansion into consumer-direct initiatives, has resulted in an accelerated demand for a number of our most popular designs. By designing, manufacturing, and distributing our own man made diamond jewelry, we have been able to eliminate commissions and distributor fees normally associated with the jewelry industry, allowing us to pass the savings directly to our customers."
In an industry that has long been tarnished by environmentally damaging practices as well as slavery and war, AGAPE Diamonds is at the forefront of the New Diamond Revolution by producing their own Simulated Diamond jewelry and ensuring that their practices are eco-friendly and economically sound.
About AGAPE Diamonds
AGAPE Diamonds, based in Lutz, Florida – a suburb of Tampa, is a global source of simulated diamonds bridal engagement rings and fine jewelry. Since its inception they have maintained the sentiment that got them started – "Love". Agape Simulated Diamonds (also known as Lab Grown Diamonds, Lab Created Diamonds, and Man Made Diamonds.) represent AGAPE Diamonds' love for humanity and respect for the environment by providing a conflict-free alternative to natural diamonds.
The AGAPE Diamond Promise: 100% Customer Satisfaction
AGAPE Diamonds' number one priority is customer satisfaction. All of AGAPE Diamonds' salespeople, artisans, and jewelers provide a wealth of experience in fine jewelry consultation, design, and manufacturing, and enjoy working with customers to create a perfect jewelry design experience.
"At AGAPE Diamonds we take pride in the design, manufacture, and distribution of our unique line of Lab Created and Simulated Diamond Jewelry. All of our rings are made with the highest quality precious metals. Our fabrication techniques utilize cutting-edge technologies alongside old-world, proven jewelry-making methods. We look forward to working with you to create that perfect heirloom your family will treasure for years to come."
To learn more about AGAPE Diamonds, please visit:
http://www.AgapeDiamonds.com or call Toll Free: 1.800.861.5144
Please view the Agape Diamonds' Satisfaction Guarantee, and Lifetime Warranty for more information.