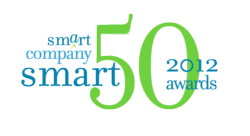 Aged Footcare is not only Australia's most respected podiatry services provider, but they are also the country's largest podiatry company who treat over 3,000 clients across the nation each week.
Melbourne, Victoria (PRWEB) September 17, 2012
Leaders in aged care podiatry, Aged Footcare, continue to set the pace for their industry, having been recognised for the second year running as one of the country's business elite by SmartCompany in their Smart50 Awards 2012. This year's list singled out Australia's top 50 fastest growing companies from more than 200 entrants and is designed to uncover the country's smartest entrepreneurs who are altering the business landscape.
The criteria for winning one of the highly respected Smart50 places are based on average annual revenue growth over the previous three financial years, and are judged by a panel of Australia's best entrepreneurs and experts.
As Mr Damien James, Founder and Managing Director of Aged Footcare exclaims, "We're incredibly excited to have been included in the Smart50 for both this year and last, because it's great recognition of the dedication and effort our team puts in to our aged care services each and every day."
"This award is also a reflection of the hard work that has gone on behind the scenes in recent years as we've endeavoured to strengthen all the business fundamentals by building solid systems and financial reporting mechanisms as well as creating incredible recruitment processes and an enviable staff culture."
This level of success is in stark contrast to the company in 2006, when an external audit lead to the shock revelation that a trusted employee had embezzled $300,000 from the business. Events that followed forced the business into liquidation and left Mr James' own professional reputation in tatters.
As Mr James explains, "At this point, my world collapsed around me and I was incredibly disillusioned. While I strongly considered walking away from the industry, I'm glad I stuck with it as it was the best decision I could have made."
"I was determined to do it differently and learn from my mistakes. And despite being recognized as one of Australia's fastest growing companies now, this was the furthest thing from my mind when I restarted the business – this time I wanted to build Australia's most respected team of aged care podiatry specialists, with the most solid foundations."
Fast forward to today and Aged Footcare is now not only Australia's most respected podiatry services provider, but they are also the country's largest podiatry company who treat over 3,000 clients in a week and employ 30 podiatrists across the nation.
As Mr James reveals, one of the major reasons why they've become one of Australia's fastest growing SMEs is their unique recruitment process and staff culture that has enabled the company to find, retain and motivate professionals who are truly passionate about working in aged care and enriching their podiatry career.
"We looked in the industry, saw that aged care traditionally has really high staff turnover and decided to be different. Now I'm proud to say that we have a rare ability to find podiatrists who love aged care and stay around. "
"At Aged Footcare, it's our vision to help create a world where residents living in aged care are joyous and optimistic and each day our wonderful staff help us achieve this. It's definitely become our competitive advantage that we help residents with their emotional comfort as well as their physical comfort and our team really enjoy building relationships over time."
For more information about Aged Footcare and how they have come to be recognized as one of Australia's top 50 fastest growing companies by SmartCompany, visit http://www.agedfootcare.com
About Aged Footcare
Aged Footcare are Australia's aged care podiatry experts and have become the leaders in their field by thanks to the company's strong values and high calibre staff who consistently offer exceptional services to over 3,000 clients nationwide.
Their team of over 30 podiatrists specialises in providing long-term physical care and emotional comfort to residents of aged care facilities, and each day work towards achieving the company's vision of 'a world where every aged care resident is joyful and optimistic'.