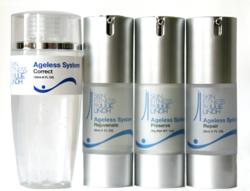 Doesn't matter if I'm tired, been on airplane, stressed out, I just do the steps and immediately I looked rested. I have noticed that my cheekbones are higher, I mean peoples around me noticed and that's pretty incredible. Angelina, LA
New York City, NY (PRWEB) September 29, 2011
Julie's products that come in the 28-day Ageless System section are targeted towards people looking for youthful, radiant skin. It comes with four system products intended towards each phase of Julie's 4-part approach that includes: correct, repair, rejuvenate and preserve. All the four phases contribute towards the betterment of the skin by nourishing, cleansing and giving it the essential nutrients it has been deprived of. The kit is now available at her boutiques and her websites.
Julie Lindh isn't your average skin care specialist. She believes that the secret to beautiful, healthy and younger-looking skin lies in a nurturing lifestyle; and as the creator of some of the most extraordinary treatments today, she's been a familiar face on both national and regional television. Julie Lindh has treated celebrities and is now revealing a brand new package for anyone to use: her breakthrough 28-Day Ageless System kit products, 3-Phase Glowing Skin Diet, and SkinFitness Workout packaged as one entire easy-to-use system.
The Ageless Skin Care contains the latest cutting edge formulations. First, her Correct Lotion is a gentle exfoliator that is meant to target the surface level (exposed level) of the skin. It removes and loosens aging cells, oil and debris. It results in smoother and softer skin. The Repair Serum is made from the stem cells of a rare Swiss Apple which is rich in proteins, phytonutrients and long-living stem cells. If regularly used, this serum will help to protect the longevity of the skin cells and reduce the depth of wrinkles. Her third product, the Rejuvenate Serum, contains six of the most potent peptides known to man for controlling or reducing the effects of aging. This serum helps the skin by gently inhibiting muscle contraction, and increases new collagen production within your body resulting in more youthful skin. Lastly, the Preserve Crème is more or less the same as the Rejuvenate Serum with only one major difference – it contains Resveratrol which is a very effective antioxidant found in red wine, which eliminates the toxins from your body while reducing inflammation at the same time.
The SkinFitness Face Workout is a special workout designed by Julie. She believes that facial exercises are important in order to keep the face and neck balanced and glowing, and with this home workout, the skin will feel the difference. Its like going to gym and over time the face will look lifted, younger and healthier. It's important to continue the workout in order to keep the effects. The top benefits include minimizing pre-mature aging, improving overall complexion, and preventing sagging skin.
One other important part in Julie's system is her 3-Phase Glowing Skin Diet. This is based on the principles of alkaline dieting. It's a complete lifestyle that is designed to help nourish the skin inside out and avoid the numerous health problems that come with age.
About Julie…
Julie is a well known skin care specialist who is famous for her customized products and services. She has been in the business for 15 years and has provided services to some of the most prestigious spas and salons internationally and also to some very renowned celebrities and models. She is known to be the 'mentor' and 'the skincare trainer' for what she does. To find out more about Julie and her 28-Day Ageless System, please visit her websites:
http://www.skinfitnessbyjulielindh.com
###