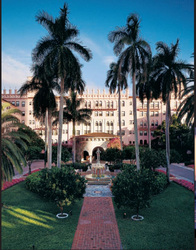 We've had an overwhelming registration from physicians . . . many are looking for new avenues to practice medicine in the private-pay sector, outside the insurance world. Most physicians could incorporate 90% of what we do into the their practices.
Highland Park, IL (PRWEB) April 14, 2010
The Age Management Medicine Group (AMMG), an organization of physicians and healthcare providers presenting CME-accredited events, reported a 21% spike in physician registration for their 2010 Boca Raton Age Management Medicine Conference, held April 22-25, 2010 at the Boca Raton Resort & Club. The perceived reason for the rise is the current health reform environment, which will negatively impact physician practices with reduced reimbursements and an expected flux of previously uninsured patients. By popular physician demand, AMMG expanded their conference offerings and is unveiling a new age management medicine certification program for healthcare professionals.
Their specialty—age management medicine—attracts physicians with its proactive approach practiced outside the insurance realm and focused on optimized health to delay/prevent age-related disease. One of two annual age-management conferences, AMMG's four-day, Florida-based event offers physician attendees 27 AMA PRA Category 1 CME Credits™ as well as expert speakers, in-depth clinical applications, breakthrough strategies, interactive panels and case-study discussions plus a two-tier pre-conference track.
"We've had an overwhelming registration from physicians who are new to our conferences—many are looking for new avenues to practice medicine in the private-pay sector, outside the insurance world. In fact, there's nothing in the conference a general practitioner couldn't benefit from. Most physicians could incorporate about 90% of what we do into their existing practices," said Greg Fillmore, AMMG Conference Chairman/Cofounder.
Physicians from virtually all walks of medicine attend the conferences to either learn age-management basics to immediately add the specialty to their existing practice or advanced topics to bolster their part- or full-time age-management practice.
Augmenting that, AMMG is unveiling their new age management medicine certification program called "Certification in the Essential Knowledge in Age Management."
"Our AMMG membership has grown significantly, with physicians wanting to support age-management efforts, further their education in the field and network with colleagues. This new certification program is rigorous and sound, available to healthcare professionals holding any of these degrees from accredited educational institutions—MD, DO, ND, NMD, PharmD, PA, APRN, NP, RN and RPh," said Rick Merner, AMMG Executive Director/Cofounder.
For the Boca event, AMMG also expanded their introductory pre-conference track, which covers fitness and patient assessment basics plus hormone restoration therapy. And for the first time, they are designating an entire morning—a four-hour block of time—for a more advanced level of case-study, interactive discussions.
Experts on telomeres and stem cell therapies will present at the conference; a new patient assessment protocol and a full morning on integrative medicine are scheduled.
A huge sponsor of the AMMG conferences—held in Las Vegas, Nevada, and Boca Raton, Florida—is global age-management leader Cenegenics® Medical Institute. As the sole, ongoing platinum sponsor, Cenegenics has been a key partner and strong supporter of AMMG since 2005.
For more information about AMMG, conferences and their new certification program, visit them online: http://www.agemed.org.
About Age Management Medicine Group
The Age Management Medicine Group (AMMG) is led by Executive Director/Cofounder Rick Merner and Conference Chairman/Cofounder Greg Fillmore.  AMMG provides education and information to physicians and healthcare professionals on age management medicine—a proactive medical approach for optimized health and the delay/prevention of age-related disease. Education is presented through evidence-based, continuing medical education conferences, workshops, seminars, publicationsand web media. AMMG membership consists of leading healthcare professionals, physicians, practitioners, researchers, medical associations and providers of products and services.
About Cenegenics
Cenegenics® Medical Institute, recognized leading authority in age management medicine, has centers in Las Vegas, Nevada; Charleston, South Carolina; Boca Raton, Florida; Dallas/Fort Worth, Texas; Atlanta, Georgia; Chicago, Illinois; Los Angeles, California; Philadelphia, Pennsylvania; Washington, DC; New York City, NY. Additional centers are scheduled to open in other major metropolitan areas in the near future. With an established presence in the medical community, Cenegenics uses a proactive approach based on solid science and comprehensive evaluation. Their established protocols have been recognized as the next generation of medical science, capturing global attention. Cenegenics offers CME-accredited physician training and certification opportunities in age management medicine via the nonprofit Cenegenics Education and Research Foundation (CERF). Headquartered in Las Vegas, Cenegenics serves more than 20,000 patients worldwide—2,000 are physicians and their families.
###