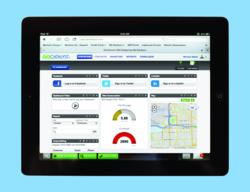 Over 170 agencies are now subscribing to this innovative and highly mobile insurance agency management system.
Deerfield Beach, FL (PRWEB) June 05, 2013
QQ Solutions, Inc, one of the largest providers of insurance agency management systems for independent agencies, announced that over 170 independent insurance agencies are now using the company's new cloud-based insurance agency management system, QQ Catalyst since its launch earlier this year. This high adoption rate makes Catalyst the company's most successful product introduction in its twenty-five-year history and paves the way for more growth when Catalyst version 2 is released next month.
QQ Catalyst is an innovative Web-based insurance agency management system that has changed the game for independent insurance agencies. Visually engaging and highly intuitive, Catalyst makes everyday agency tasks simple, quick and error-free. With Catalyst, agents can choose to receive step-by-step guidance to complete tasks, from adding a contact and creating a new policy to renewing an existing policy. In addition, its innovative "Stack" feature provides an easy way for agents to manage interruptions, pause what they are working on, do something else and then return to it at a later time. When daily interruptions occur, users can pick right back up where they left off, even while away from their office. Catalyst works on any device with a modern browser, including PCs, Macs, iPads, iPhones, tablets, and other mobile devices. Once agencies subscribe to Catalyst, there's nothing to install. Users only need Internet access.
"Catalyst is QQ Solutions' most successful new product introduction in our 25-year history," said Mark Malis, CEO of QQ Solutions. "Over 170 agencies are now subscribing to this innovative and highly mobile insurance agency management system. This success paves the way for more growth when we release version 2 next month."
For more information about QQ Catalyst, visit the company's website or call QQ Solutions at 1.800.940.6600.
About QQ Solutions, Inc.:
Named one of the "25 Fastest-Growing Technology Companies" in South Florida by the South Florida Business Journal in 2011, QQ Solutions is a software-as-a-service (SaaS) company that provides feature-rich, affordable solutions that help independent insurance agencies grow revenues, enhance productivity and operate more efficiently. The company's mission is to help independent insurance agencies compete in the digital world by leveraging the latest Web technology, social media, Internet marketing and real-time services.
QQ Solutions strives to delight its customers by exceeding their expectations in product quality, customer service, training & support, and by meeting their evolving needs through a program of continuous product development and improvement incorporating the best available technologies.
The company's headquarters is located in Deerfield Beach, Florida, where the company employs 65 people in software development, product management, product support, professional services, marketing, sales, IT, finance, and administration.
To learn more about QQ Solutions products, please call the company at 1.800.940.6600 or visit the QQ Solutions website at: QQSolutions.com.