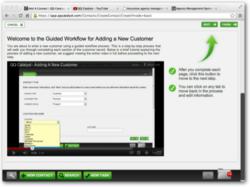 QQ Catalyst is a fully Web-based insurance agency management system that offers many innovative new features.
(PRWEB) January 15, 2013
QQ Solutions launched its newest product today to independent insurance agencies across the nation – QQ Catalyst. QQ Catalyst is a fully Web-based insurance agency management system that offers many innovative new features including a highly intuitive user interface and guided workflows.
QQ Catalyst is a full-featured agency management system that utilizes exclusive tools and an intuitive design. The name of the product – Catalyst – perfectly captures the product's design philosophy of creating a dramatic improvement in how agents manage and grow their business. Some highlights of the system include:
-- Upward Mobility: QQ Catalyst is a 100% Web-based system that works with any modern browser. This means that Catalyst can be used on any device including, PCs, Macs, tablets, and smartphones. There's no software to install– the solution is completely hosted in the cloud.
-- A Better Way to Multitask: The unique Stack feature allows users to easily and safely handle interruptions and juggle multiple customers, policies and workflows at the same time. This exclusive, breakthrough feature allows users to optimize workflow and reduces E&O exposure.
-- Guided Workflows: QQ Catalyst has the lowest learning curve of any agency management system. Guided Workflows walk users through each step of adding contacts, creating policies, generating reports, ACORD forms, and other processes. The system also uses on-page videos, in-line help, tooltips, and more to help users learn the system and make the switch from a different system as painless as possible.
-- API: The QQ Catalyst REST API enables software developers to integrate third-party applications and create new dashboard widgets, Web apps, and native iOS/Android apps that extend Catalyst's capabilities.
"Catalyst is visually engaging and incredibly easy to learn and use," said Michael Stebel, COO of QQ Solutions. "The entire system is an example of QQ innovation-leadership that will set us apart going forward as we change the game in insurance agency automation."
QQ Catalyst offers independent insurance agencies the easiest way to manage their business with the most powerful tools to grow it. It also has compelling cost benefits with multiple pricing plans and no contracts or setup fees. Each week, QQ Solutions will demonstrate QQ Catalyst with a 45-minute webinar. Registration for the webinars can be found on the QQ Catalyst demo webinar page.
About QQ Solutions, Inc.:
Named one of the "25 Fastest-Growing Technology Companies" in South Florida by the South Florida Business Journal in 2011, QQ Solutions is a software-as-a-service (SaaS) company that provides feature-rich, affordable solutions that help independent insurance agencies grow revenues, enhance productivity and operate more efficiently. The company's mission is to help independent insurance agencies compete in the digital world by leveraging the latest Web technology, social media, Internet marketing and real-time services.
QQ Solutions strives to delight its customers by exceeding their expectations in product quality, customer service, training & support, and by meeting their evolving needs through a program of continuous product development and improvement incorporating the best available technologies.
The company's headquarters is located in Deerfield Beach, Florida, where the company employs 65 people in software development, product management, product support, professional services, marketing, sales, IT, finance, and administration.