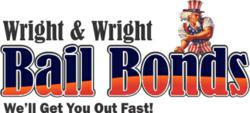 Let us get to you before your cellmate does!
Miami, FL (PRWEB) July 31, 2012
Wright & Wright Bail Bonds - Bail Bonds Scams – 7-31-12 – This reputable Broward and Miami Bail Bonds Agency has been deemed one of the most trusted, most used, and most proficient Bail Bonds Agencies in both Broward and Miami Dade Counties and has received this stellar status due to their proficiency and their experienced, highly qualified, and highly skilled team of experts. Wright & Wright Bail Bonds adheres to every Florida Statute, ensuring that every step is followed correctly and precisely, and one can certainly trust them to provide all the pertinent information and needed in order to complete a bail bond in Miami or Broward process safely, properly, efficiently, effectively, affordably, and quickly, and can most certainly trust their useful and reliable list of important essential "Tips on How to Avoid a Bail Bond Scam." Extensively trained professionals at Wright & Wright Bail Bonds are available 24/7 to answer all questions and to provide accurate critical information to those in need of bail bond assistance.
Some facts people should be knowledgeable of before hiring a Miami Bail Bonds Agency:

A legitimate Bail Bond Agent should possess and present a State-Issued Identification Card
A licensed Bail Bond Agent shall always provide a Receipt containing the Agency's Name, Address, and Phone number, along with the Agent's Signature and Identification Number
No Discounts or Reduced Rates may be offered, as this is illegal
A Bail Bond Agency cannot charge less than 10% of the bail for state bonds
When searching for the right Bail Bond Agency, one must also be aware of certain Laws and Statutes.
For example, according to Florida Statute 648.44 (2) Prohibitions; penalty – A list of people who may not be Bail Bond Agents and/or directly or indirectly benefit from the execution of any Bail Bond consists of but is not limited to the following:
Police Officers or Employees of any Police Department or any Law Enforcement Agency
Committing Trial Court Judges
Employees of a Court or Employees of the Clerk of any Court
Sheriffs and Deputy Sheriffs
Employees of any Sheriff's Department
Persons employed in any Jail
Attorneys
To avoid being scammed when seeking bail bond assistance, one must also be equipped with a list of crucial questions to ask a prospective Bail Bondsman such as:
Are you a licensed Bail Bond Agent?
How long have you been a licensed Bail Bond Agent?
Has your license ever been suspended and/or restricted, and if so, why?
When was your Agency founded?
Have any clients sued you in the last year, and if so, please elaborate.
How many homes did you start foreclosure on last year?
Are you willing to put into writing all the particular payment plan terms?
Will you itemize all your expenses on bond forfeiture?
Will you revoke the defendant's bond if not forfeited and under what circumstances?
Will you list any reporting requirements or other conditions of bail?
When dealing with a situation as serious and important as this, one must be certain that they obtain assistance from legitimate and appropriate sources and not fall victim to manipulators who will attempt to take advantage of clients. Wright & Wright Bail Bonds provides safe, proper, and trustworthy assistance and services, along with proof of legality, client testimonials, and other evidence of their proficiency and success rates, and listed above are just some of the questions, facts, and tips one should prepare and be aware of when searching for a reliable and proficient Bail Bond Agency.
Media Contact:
Leslie Wright
Wright & Wright Bail Bonds
Phone: 305-381-5245
Email: lazaro(at)miamiflbailbonds(dot)com