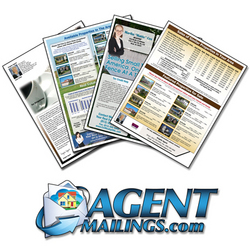 With the ability to successfully farm all three target groups on a consistent basis while branding the agent as the local real estate expert, over time AgentMailings™ becomes the agent's primary marketing tool for new and repeat business
Sarasota, FL (PRWEB) December 7, 2009
AgentMailings™ which has been providing successful, exclusive target marketing for Real Estate Agents within the country's largest real estate agencies for over 12 years, has expanded nationwide and is now available for all agents with the launch of AgentMailings.com.
AgentMailings™ unique Target Farming system provides real estate agents with newsworthy, data based marketing materials to target farm potential clients. These materials are consistently delivered in a target specific report format through the U.S. mail or email to an agent's target contact groups -- Home Sellers, Home Buyers, and Sphere of Influence. The process is accomplished by providing each agent with an AgentMailings™ Personal Marketing Assistant that does most of the work needed to prepare and mail the reports.
Even during the recent market decline, AgentMailings™ has continued to deliver results for agents and has been able to expand their business by staying true to the fundamental principles of successful real estate marketing. "The average number of real estate reports mailed by our client agents has grown by 23 percent, even in a down market," says AgentMailings™ developer and CEO, Steve Snyder. A graduate of Indiana University, Bloomington, with an MBA in marketing, Snyder adds "With the ability to successfully farm all three target groups on a consistent basis while branding the agent as the local real estate expert, over time AgentMailings™ becomes the agent's primary marketing tool for new and repeat business."
Agents can custom target specific areas and demographic groups within their community by utilizing an on-line mapping program. Importantly, the client lists are exclusive to the agent through the AgentMailings™ program, protecting the agent's investment while they build business through consistent marketing to specific target groups.
This "Real Estate Expert" persona can be amplified with another unique aspect of the AgentMailings™ program. An agent can choose to "Personally Brand" their Real Estate reports to maximize the effectiveness of their target farming and further enhance their image.
AgentMailings™ can also provide their client agents with pre-scrubbed follow-up phone numbers for each of their chosen contact groups. To take it a step further, the AgentMailings™ Call Center will conduct follow up calls for client agents' for a nominal fee. "We average one qualified lead for each 12 contacts reached," says Snyder. "This brings the success rate for our agent clients to a whole new level."
"We focus solely on the needs of real estate agents and work with no other industry," says Snyder. "By offering real estate agents what they need most, all with little effort on their part, AgentMailings™ has been able to grow and prosper within the real estate community."
AgentMailings™ (formerly RSP) is based in Sarasota, Florida. They personally produce all real estate agent marketing materials and provide program support from their own facility at 7456 16th Street East, Sarasota, FL 34243.
To learn more about AgentMailings™ visit the AgentMailings™ website at http://www.AgentMailings.com or contact:
Gavin Christie / National Accounts Manager – AgentMailings™
Toll Free (800) 298-1918 Ext. #419
GavinChristie(at)AgentMailings(dot)com
###