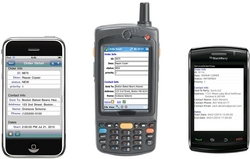 As more and more enterprises discover the power of mobility, we find ourselves serving increasingly diverse users.
Hoffman Estates, IL (PRWEB) September 2, 2010
Syclo announced today that it's rolling out major enhancements to its Agentry mobile enterprise application platform (MEAP). Agentry is the backbone of Syclo's mobile solution framework as it provides both the tooling and infrastructure that enterprises need to develop, test, deploy and manage high-availability mobile applications.
Many of the enhancements in the Agentry 5.2 release are designed to let Syclo's customers and partners take a more active role in developing and managing their mobile solutions. One addition, called Team Configuration, allows multiple developers collaborate on creating and configuring a Syclo mobile application. A feature set within Syclo's integrated development environment, Team Configuration establishes a single application repository that developers can share and update in real time – improving collaboration, compressing deployment times and minimizing conflicts. This improvement is critical to Syclo's implementation partners, who can now deliver reliable, highly tailored mobile solutions in record times.
Another major enhancement is the addition of Agentry Analytics. Agentry Analytics is a powerful diagnostics and analysis package that integrates key hardware performance metrics with user behavior statistics to give customers a complete, unified view into their deployment. This breakthrough approach to solution management enables administrators to correlate hardware and user events, identify patterns and diagnose problems with ease.
"Agentry Analytics is miles ahead of the traditional mobile device management offerings," said Paul Chiapuris, Syclo EVP of Development. "It gives you a meaningful way to see what actually happens with your application out in the field. How long are users spending on a particular inspection form? What error messages are they encountering? What can we do to make the application more intuitive for the mobile worker? These are all questions our customers were asking, and with Agentry Analytics we have the answer."
Agentry 5.2 also brings enhanced support for iPhone, iPad and BlackBerry devices. Syclo customers can now enjoy all the benefits of a typical Syclo mobile application (offline availability, swift performance and complete configurability) on Apple iOS and RIM platforms without sacrificing the native user experience of these advanced devices. Syclo achieves this cross-platform capability by reusing the business logic and core parts of the application on all devices, while using the native device controls and capabilities for the user interface. This approach offers enterprises unique advantages, as they aren't forced to recode the application for every platform or replicate changes once the original solution is changed.
"As more and more enterprises discover the power of mobility, we find ourselves serving increasingly diverse users," said Rich Padula, Syclo founder and CEO. "Many of our customers started with complex mobile work management applications for the field workforce but are now looking to provide solutions to other corporate users, managers and even their own customers. There is an incredible amount of device diversity among all these users, and being able to address it effectively remains one of Syclo's strong suits."
Agentry 5.2 is now in general availability and is available to Syclo customers and partners with their scheduled upgrade.
About Syclo
Since 1995, Syclo has helped over 750 companies streamline workflow and improve productivity with its innovative mobile solutions and first-in-class execution expertise. Syclo delivers quick ROI by offering rapidly deployable mobile software applications built on a 100% configurable mobile Agentry platform. Syclo's SMART Suite of products includes prepackaged and pre-integrated applications for the fastest path to extend enterprise systems to field workforces. Unlike other mobile solutions, Syclo simplifies enterprise-wide deployments with a leading strategic architecture for one or more mobile applications, letting organizations concentrate on business processes. Syclo also sets the standard for adapting to rapid change. For more information, visit http://www.syclo.com, or email info@syclo.com.
Syclo and Agentry are trademarks of Syclo LLC. All other trademarks are the property of their respective holders.
Copyright 2010 Syclo LLC. All rights reserved. 07102901-907
For product information contact Angela Nikolaros
+1 847.713.9110
sales(at)syclo(dot)com
Syclo EMEA office contact David Hartwell
+44 1372 371031
emea(at)syclo(dot)com
Media inquires contact Mark Curatolo
+1 847.713.9101
pr(at)syclo(dot)com
###