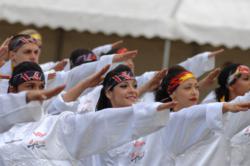 Pieces of art can often become rallying points for larger causes. Our greatest aspiration would be for "Age of Wushu" to becoming a driving force in making Wushu an Olympic event.
London, England (PRWEB) August 11, 2012
On August 8th, after five years of research and development, the Chinese developer Snail Games released their martial arts MMORPG "Age of Wushu" to international audiences. Chinese speaking players from all around the globe are invited to heed the advice of spokesman Jet Li and fulfill their martial arts dream in "Age of Wushu." To mark the launch of this Global Chinese Language Open Beta Test (OBT), some of the top staff of Snail Games travelled to London, England to celebrate the occasion.
While many around the world know about martial arts, be it Shaolin, Kung Fu, or Judo, Wushu is designed to be a much nobler and sacred approach to the practice. Rather than simply learning these disciplines to become a stronger person and a better fighter, Wushu aims to create a harmonious elevation of one's body and mind. Followers seek to improve their internal and external selves; for those who are of pure mind and heart, getting stronger not only makes one more powerful, it empowers the person to make the world better through positive strength.
Much like cowboys to American cinema or knights in British literature, Wushu has been long intertwined in Chinese stories of honor, love, and good vs. evil. Snail has worked relentlessly to create a game that could combine the expansive atmosphere of the tales and the dynamic battles of the heroes and villains who fought within the stories. On August 8th, 2012, the richness of Wushu tales was transformed into a fully realized digital online experience and available to millions of players worldwide.
A lavish and extravagant release event was held in honor of this momentous occasion. Held at the beautiful Wood Wharf Plaza on the River Thames in London, the destination's proximity to nearby the Olympic Stadium and competition venues was both an aesthetic and functional decision. Carefully scheduled to take place the same time that Chinese athletes were competing in the London Olympic Games, Snail wanted the festivities to not just be a celebration of the game, but of the people and the culture of Wushu that inspired it.
"Snail brings you 'Age of Wushu' to promote the global movement to make Wushu, a body of traditional Chinese martial arts, an Olympic sport," Snail Game's CEO Shi Hai announced to the crowd of tourists, Londoners and Wushu enthusiasts. "The Global Chinese OBT and the hundreds of people performing Wushu really make for an exciting and momentous event." Even beyond the game and the culture, this event was intended to bring international attention to the movement to make Wushu an Olympic Sport.
After his speech ended, hundreds of Wushu experts, Tai Chi Dancers, and Lion Dancers showed off their skills in a grand performance celebrating the culture and traditions of the Chinese people. Shortly after this display, Shi Hai and Jeanette Zhou, President of Snail Games USA enjoyed a ceremonial ribbon cutting symbolizing the opening of the servers to international Chinese language gamers.
The London "Make Wushu an Olympic Event" video: http://v.youku.com/v_show/id_XNDM2NDIyMjg4.html
Global Chinese OBT promotional video
In addition to the 8/8 extravaganza, the Snail team in London took extra steps to generate more excitement for the Wushu in the Olympics cause. Starting on August 4th, Snail's "Age of Wushu" team took a "Make Wushu an Olympic Event" petition to the streets of London. From the Chinatown area to Trafalgar Square, the street team recorded everyone's support for Wushu. Through showcasing "Age of Wushu" and Jet Li's promotional video, Snail was able to demonstrate the charm of Chinese martial arts to everyone. This provided a great effect in encouraging people to vote for yes to make Wushu an Olympic event; the preliminary voting was more than 5:1 in favor of the discipline's inclusion.
Snail Games is now gearing up for the global launch of the English-speaking version of the game on October 18. They hope to repeat the success of the title's launch in China, which saw 200,000 gamers sign up and play within hours of it going live.
About Snail Games Group
Headquartered in historic Suzhou, China with a North American base in Los Angeles, California, Snail is a leading developer of MMO and interactive online games. Founded in October 2000, Snail Games' growing library of titles includes Ministry of War, 5 Street, and Heroes of Gaia, and the massively anticipated Age of Wushu. Snail Game's wildly popular titles are currently sold and distributed worldwide. Heralded as one of the "Top 10 Chinese game developers," as well as one of Gamasutra's "Top 30 Developers" Snail Games is committed to delivering the highest-quality interactive experiences to gamers around the globe.