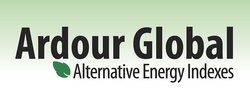 New York, NY (PRWEB) September 8, 2010
The Ardour Global Alternative Energy Index℠ (TICKER: AGIGL) will add eight new components, effective 6:00 PM (EST) Sunday, September 19, 2010. Nine stocks will be deleted from the index, changing the number of index components to 131. The changes result from the quarterly rebalancing of the index.
The Ardour Global Index℠ (Extra Liquid) (TICKER: AGIXL), which contains a fixed number of 30 stocks, had two additions against two deletions. Neo Solar Power Corp (TICKER: 3576 TT) and Power-One Inc. (TICKER: PWER US) will replace EDF Energies Nouvelles (TICKER: EEN FP) and Q-Cells SE (TICKER: QCE GR).
Additions to AGIGL are: Powercom Co Ltd (TICKER: 3043 TT); Amtech Systems Inc. (TICKER: ASYS US); China Boqi Environmental Solutions Technology (TICKER: 1412 JP); Danen Technology Corp (TICKER: 3686 TT); JinkoSolar Holding Co. (TICKER: JKS US); Tesla Motors Inc. (TICKER: TSLA US); Ameresco (TICKER: AMRC US); Plutonic Power (TICKER: PCC CN).
Deletions to AGIGL are: Clipper Windpower (TICKER: CWP LN); Coslight Technology International Group Ltd (TICKER: 1043 HK); Evergreen Solar Inc (TICKER: ESLR US); Gushan Environmental Energy Limited (TICKER: GU US); Infigen Energy (TICKER: IFN AU); Pacific Ethanol Inc (TICKER: PEIX US); US Geothermal Inc. (TICKER: HTM US); Valence Technology Inc (VLNC US); Zenergy Power PLC (TICKER: ZEN LN).
A complete list of constituents and weights will be posted on the AGI family of alternative energy indexes website (http://ardour.snetglobalindexes.com/about_the_indexes.php) as of the effective date.
The Ardour Global Alternative Energy Index℠ is a capitalization-weighted, float-adjusted index of the most prominent alternative energy stocks in the world. To be included in the AGIGL index, companies must be pure-play and the stocks must pass multiple screens, including for capitalization, float, exchange listing, share price and turnover.
Detailed index information, including constituent data, rules and price information, is available at http://www.ardourglobalindexes.com. Data is also available through most vendors of financial data.
Contact:
Walter Nasdeo
Ardour Capital Investments, LLC
212-375-2958
Joseph LaCorte
Ardour Global Indexes, LLC
646-467-7927
http://www.ardourglobalindexes.com
# # #