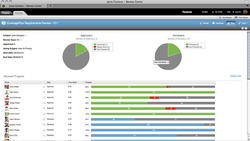 Review Center enables companies to define new products in an agile way by leveraging the collective genius of everyone involved.
Portland, OR (PRWEB) September 8, 2010
Jama Software, the provider of collaborative requirements management software used by companies worldwide for managing product innovation, today announces the availability of the Review Center module along with its new version, Jama Contour 2.9.8.
Gain Consensus Faster. Leverage the Collective Genius.
The Review Center is an industry-first module that provides teams a fast and agile way to review requirements to gain consensus with stakeholders. It provides visibility into the decisions made during the product planning and development. It captures all the relevant feedback in one place. And, it eliminates scope issues that commonly occur during the development process, because it gives project teams control to discuss, review and approve requirements with their stakeholders in real-time within a private and completely secure Web-based solution.
Key Benefits of the Review Center:

Get requirements right the first time
Manage scope changes faster
Be agile during product planning
Provide greater visibility into planning decisions
Increase accountability and participation by everyone
Document approvals at key milestones
"If you've ever been involved in the management of a complex project, you know how difficult and time-consuming it can be to keep everyone in sync on the scope," said Eric Winquist, co-founder and CEO of Jama Software, "Review Center enables companies to define new products in an agile way by leveraging the collective genius of everyone involved. Fundamentally, when people collaborate together, it leads to faster development cycles, fewer issues and higher quality products. "
How the Review Center Works:
Historically, a project owner would capture requirements in a static specification document and circulate it around in email to gain feedback and approval. This approach was time-consuming and error-prone when changes occurred because multiple versions would exist and stakeholders didn't have context to the full discussion. Now, using Contour with the Review Center, a member of the project team can send a specific set of requirements out to their stakeholders to review and provide feedback in-line. Participants in the review can join the real-time discussion, propose edits, flag issues, vote for prioritized features, and ultimately approve and electronically sign-off on the requirements for an official record of the agreed-upon scope. See the Review Center in action, watch the videos and download the Review Center Playbook.
Product Availability:
The Review Center is available immediately within the new release of Jama Contour 2.9.8 and is sold as an integrated module on an annual term basis which includes support and maintenance for the first year. A full-functioning, 30-day trial of Contour 2.9.8 with the Review Center is available.
About Jama Software
At Jama, our mission is to help companies build great products. We're collaborating with companies across industries, from top government agencies to several of the world's largest, most innovative organizations to design new ways to smash information silos, speed innovation and build high-quality products. Jama Contour, the leading Web-based solution for social product development and requirements management, is now trusted by thousands of users worldwide managing billions in R&D projects. Join us. For more information, videos and free trials, visit http://www.jamasoftware.com
Follow Jama on Twitter: http://www.twitter.com/jamasoftware
###