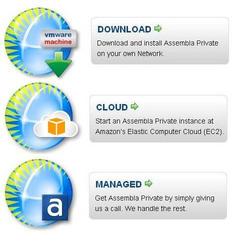 Cloud hosting simplifies a lot of things. We will offer our servers on the public and private cloud hosts that our customers trust, leading the trend toward distributing enterprise software through cloud hosts.
Needham Heights, MA (PRWEB) August 3, 2009
Assembla, a provider of Web-hosted code repositories, workspaces and tools for more than 180,000 software developers, today announced "Private Assembla", an on-site installation of their portal for distributed agile software teams. The new Private Assembla portal is available as a download that can be run behind the firewall, as a dedicated Amazon Cloud image, or as a fully managed service. Assembla workspaces accelerate software development with code repositories (Subversion and Git), ticketing and issue management, collaboration, and management tools.
"Our online users are very demanding. They expect ease of use, an ever-expanding set of capabilities, and reliability," said Andy Singleton, CEO and co-founder of Assembla. "If they are not delighted, they can switch to anything else on the Internet. That competitive pressure drives us to build an application that is a leader in usability, price, and the integration of features that enterprise developers need."
Findology, an online marketing firm, is currently using Private Assembla. Findology has developers on three continents, with several offshore outsourcing partners, and remote teams within the US. Its teams deliver releases for multiple projects and multiple clients on cycles as short as two days, while satisfying client requirements for confidentiality and code security.
According to Findology's Senior Director of Technology, Vijay Nath, "Assembla puts us firmly in control of our source code as well as our project management resources. We can allow an external partner access to just the project areas that we need them to work on, and we can always see what our teams are working on, so we can continually refocus them on priority tasks as our business needs demand. We are now able to perform in an agile environment without worrying about evolving/changing directions."
The technology team at Reed Business Information is responsible for a family of over 100 business web sites. Senior IT Director Catherine Reusswig describes their experience with the Assembla distributed agile process and tools: "The impact has exceeded our expectations. We moved to managing requirements online, incremental releases with distributed Scrum, and have added several offshore developers. We delivered 2 large projects within 9 months affecting over 50 web sites and are now engaged on several more. Our business users like the flexibility of the Assembla wiki, milestones, and agile planner and feel more in control of priorities. Our developers have clearer, more actionable goals and specs. Assembla provided all the key tools in one package and has been a real advantage for our business."
According to Singleton, software companies typically release an installed product for enterprise users, and then package it into an online product for on-demand subscribers. Assembla has taken the opposite approach, starting with the online product, and later packaging it for delivery to enterprise users that have security requirements, customization requirements, or other reasons to support a private installation.
Virtual server technology was a key enabler, allowing Assembla to package a complex system with dozens of servers and processes into one virtual server that takes less than 15 minutes to install.
Private Assembla is being released simultaneously for in-house installation and as a server image on Amazon's EC2 cloud hosting service. Users of the Cloud image can get started in a few minutes, with prices starting at $1.40/hour. Singleton emphasizes, "Cloud hosting simplifies a lot of things. We will offer our servers on the public and private cloud hosts that our customers trust, leading the trend toward distributing enterprise software through cloud hosts."
ABOUT PRIVATE ASSEMBLA
Assembla workspaces include ticketing and issue management, Subversion and Git code repositories, team collaboration features such as wikis and message boards, and management features such as Scrum reporting and time tracking. The Private Assembla package includes complete source code, API's, directory integration, unlimited upgrades, and technical support. Private Assembla is available in configurations that scale from 20 to 200,000 users.
The Download package - The downloadable VMware virtual appliance allows customers to download and run the software on their own server and network.
The Cloud package - The Assembla Private image on Amazon's Elastic Compute Cloud (EC2) offers instant setup and economical per-hour pricing.
The Managed Service - The no-hassle managed service outsources all aspects of configuration, system management and user support to Assembla professionals.
To learn more about Private Assembla, visit our website at private.assembla.com
ABOUT ASSEMBLA
Assembla was founded in 2005 by three software industry veterans who wanted to accelerate commercial software development by gathering ideas from distributed open source teams, Web 2.0 rapid release cycles, and agile methodologies. They use Assembla's "distributed agile" process to rapidly deliver software products for startup companies. In 2006 they released Assembla.com, an online service for growing numbers of distributed agile teams. Assembla has 22 employees in seven countries.
To learn more about Assembla, visit our website at http://www.assembla.com.
Media Contact:
Anastasia Voskresenskaya (781) 583-7541
###