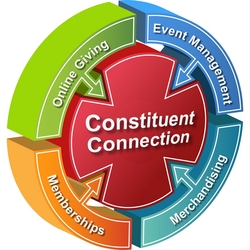 Nonprofits are becoming more sophisticated in their approach to managing relationships with their constituents
Cedar Rapids, IA (PRWEB) July 16, 2010
Agilon, an information systems provider for not-for-profit organizations, announced today the availability of the Constituent Connection Donor Outreach Suite. Agilon's Donor Outreach Suite provides organizations with a comprehensive web portal for managing online donations, e-marketing, social networking, events and membership programs.
The Donor Outreach Suite is full featured web platform entirely under control of the nonprofit that works directly with their database, and does not have the limitations and high annual cost of a shared web service. With built-in content management, nonprofits can easily create dynamic web pages and e-mail communications to deliver their message to donors, alumni and friends. The solution supports multiple organizational groups on a single platform, providing an integrated solution for universities and other large organizations.
Over the past two years, the number of organizations adopting Agilon's Constituent Connection has increased over 450% as organizations have realized the benefits that a fully-integrated web portal with social networking and e-marketing tools contribute to their fundraising efforts. With the introduction of the Donor Outreach Suite, these technologies are now available for use with popular student information databases including Datatel, Jenzabar and SunGard. The Donor Outreach Suite is also fully integrated with the Agilon ONE CRM solution for nonprofits.
"Engaging donors and alumni is critical to increase overall giving and participation," said David Best, president and CEO of Agilon. "The Donor Outreach Suite with Constituent Connection will not only help nonprofits engage their donors online, it will also help them measure that engagement, so they can maximize their return on investment."
About Agilon
Agilon is dedicated to providing products and services that empower nonprofit organizations to develop life-long relationships and effective communications with their constituents. Agilon's ONE fundraising and fund-accounting systems provide clients with a comprehensive solution that successfully manages donors, prospects, memberships, contributions and financials as well as scholarships, endowments, events and memberships for a wide range of non-profit organizations. The fundraising system is entirely web-based and includes an integrated donor outreach web portal and an e-mail communication system that enriches an organization's relationships with their donors and prospects. For more information, visit http://www.MyAgilon.com .
Agilon's ONE, Donor Outreach Suite, Rel@y and Constituent Connection are trademarks of Agilon, LLC.
###