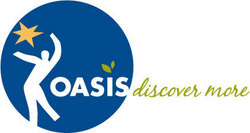 Active Generations is an innovative approach to mental fitness for older adults
Saint Louis, MO (Vocus) March 12, 2010
OASIS, one of the most experienced and successful organizations providing lifelong learning and service opportunities for adults age 50 and over, has been awarded an American Society on Aging-MetLife Foundation MindAlert award for its Active Generations program. The MindAlert awards program recognizes innovation in mental fitness programming for older adults.
OASIS Active Generations is an intergenerational nutrition/activity program that partners older adult volunteers with children in grades 3-5. The program implements CATCH (Coordinated Approach to Child Health), an evidence-based, nationally recognized school nutrition and physical activity curriculum. CATCH builds an alliance of parents, teachers, child nutrition experts, school staff, and community partners to teach children and their families how to be healthy for a lifetime.
"Active Generations engages older adults as champions in making a social impact on one of the greatest challenges facing America today, childhood obesity," says Marcia Kerz, President, The OASIS Institute.
"The program supports our efforts to promote 'brain fitness'. By participating in meaningful and healthy activities, the volunteers are challenging their bodies and minds," adds Kerz.
Each Active Generations after-school session is 90 minutes long and includes three components: an interactive lesson, a healthy snack, and moderate to vigorous physical activity. The volunteers teach the lessons, prepare and explain the healthy snack, and lead or participate in the physical activity.
Active Generations was piloted successfully by OASIS and community partners in San Antonio and Pittsburgh in 2006 and 2007 through funding from the Robert Wood Johnson Foundation, the MetLife Foundation and the National Council on Aging. Through funding from the WellPoint Foundation, Active Generations is being offered in ten U.S cities, where 350 volunteers age 50 and over will reach over 3000 students.
"Active Generations is an innovative approach to mental fitness for older adults," says Dean Blevins, PhD, Chair of the ASA-MetLife MindAlert Committee. "Older adults are applying their minds and bodies and reinforcing their own healthy habits as they serve as champions for change on a very real problem facing our nation."
For more information about OASIS and the Active Generations program, visit OASIS.
For more information:
Joan Pace
(314) 862-2933 ext. 282
jpace (at) oasisnet (dot) org
###