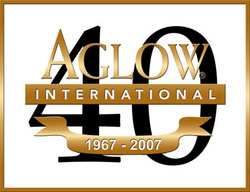 We see this opportunity as another chance to bridge a gap between Jews and www.aglow.org/index.php [Christians]
Seattle, WA (PRWEB) August 15, 2007
Aglow International, one of the world's largest Christian organizations, is observing its fortieth year of service and ministry. More than 200,000 Aglow members will celebrate worldwide, and many will attend commemorative events, which included an annual trip to Israel in May, and an upcoming international conference to be held in Seattle, the organization's founding city, September 20-23.
"Aglow women are people of prayer and action," said Aglow President Jane Hansen. "We are committed to helping our neighbors and influencing our world as Jesus did."
What began in 1967 as four women desiring to meet together as Christians across denominational boundaries has grown into a worldwide network of women who pray, teach and reach out to their communities -- ministering to an estimated 17 million people each year.
Today, more than 21,000 Aglow leaders and 4,600 indigenous groups can be found in nearly 170 countries, including some that are traditionally closed to Christianity. The groups are formed by women in the same community, neighborhood or workplace who pray together and focus on Aglow's three mandates: Male/Female Reconciliation, Islam and Israel.
Reconciliation between men and women
Since 1981, Aglow has been working to reunite the sexes under God's purposes from the beginning (Genesis 1:26-28): to have a family, a people who would share His life, nature, spirit, vision and purpose, and through whom He would express His power and glory on earth. The ministry believes the restoration of male and female togetherness is necessary for the Church to be fully restored and fulfill its destiny to express God's image and take dominion on the earth.
"In an age of growing gender confusion, Aglow helps women understand their uniquely created roles allowing them to effectively influence their families, churches and communities," said Hansen. "We want women to recognize their significance, not being silenced or disregarded, but rather respected and received -- speaking wisdom and truth as they were created to do."
Muslim outreach
In 1991, Aglow began focusing on ministering to Muslims, who make up one-fifth of the world's population, recognizing that without Christ, they have no hope, no forgiveness of sin and no real assurance of salvation and eternal life. Aglow works to unveil the belief structure of Islam, bringing awareness to Christians, while loving the Muslim people by reaching out to them with the Gospel. Since 1991, the ministry has become affiliated in 36 Muslim nations. Moreover, Aglow helps produce TV programs in Arabic geared to Muslim women, which are aired via satellite throughout Europe, the Middle East, North Africa and the U.S.
Supporting Israel
In 2000, Aglow leadership felt led by God to corporately stand with and support the nation of Israel and the Jewish people. Since then, Aglow, has led annual tours to the Holy Land. This year, Hansen led Aglow's seventh journey to Israel. In fact, just as Aglow celebrates 40 years in existence, the nation of Israel celebrates 40 years since the reunification of Jerusalem under Jewish control. A highlight of this trip for Hansen was speaking at the first Knesset Christian Allies Caucus Women's Summit, of which she is a council member, May 20-21 in Jerusalem.
"We see this opportunity as another chance to bridge a gap between Jews and Christians," said Hansen. "Through seeing the land firsthand and getting to know the people of Israel, we will know how to pray for them as they continue to face political and social crises."
Worldwide Conference
Every other year, international Aglow women gather for fellowship, worship and speaking events. In honor of the fortieth anniversary, this year's conference with the theme "A Voice. Not an Echo." will be held Sept. 20-23 in Seattle. Along with Hansen, speakers include Che Ahn, president of Harvest International Ministry; Lou Engle, founder of the Justice House of Prayer and theCall; Robert Stearns, founder of Eagles' Wings; Barbara Yoder, senior pastor of Shekinah Christian Church; and Dr. Chuck Pierce, president of Glory of Zion International Ministries. Special Music will feature the talents of Ron Kenoly, whose album "Lift Him Up," was the fastest-selling praise & worship album ever, and Grammy award-winning hip-hop violinist Miri Ben-Ari. To find out more about this event or to register visit Aglow International's Worldwide Conference Registration Website.
The future of Aglow
Aglow is launching a new series of two-day seminars on Israel from a global/historical perspective called "Watchmen on the Wall," designed to raise up passionate intercessors for Israel, and to create informed, articulate ambassadors in the public arena. The seminars will be in selected cities in the U.S., including one in Seattle immediately following Aglow's Worldwide Conference Sept. 23-24.
Every day across the world, thousands of Aglow women are actively involved in works of compassion, empowerment, and training as part of their evangelism efforts. As a result, Aglow has recently incorporated a subsidiary of Aglow International for relief and humanitarian purposes. Aglow is finalizing its application for 501(c)(3) status with the federal government for the relief initiative, which will give international Aglow leaders entrée to funding sources in their respective nations.
"For a charity interested in applying for funding for projects that assist women in emerging world nations, it is important to be recognized as a non-governmental organization," said Hansen. "This 'good housekeeping seal of approval' will give the ministry the chance to serve even more people around the world."
About Aglow
Aglow began in 1967 with four Christian women who met together across denominational boundaries for prayer and fellowship. Today, Aglow has grown to include more than 21,000 leaders and 4,700 indigenous groups in nearly 170 countries, including some that are traditionally closed to Christianity. Through this worldwide network, Aglow ministers to an estimated 17 million people each year through prayer, teaching, and acts of compassion.
For more information about Aglow International women's ministry, visit Aglow International or Aglow's Online Newsroom with A. Larry Ross Communications.
# # #