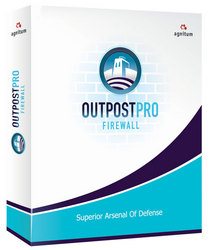 St. Petersburg, Russia (PRWEB) April 29, 2009
The security experts at Agnitum, the provider of Outpost Pro product line, are pleased to announce a new free version of the award-winning Outpost Firewall.
Outpost Firewall Free, which can be acronymed OFF yet the protection is always ON, becomes available to all modern Windows users with 100% OFF the price expected from a powerful security solution. Outpost Firewall Free 2009 encompasses Agnitum's fundamental protective mechanisms and provides key components to build a comprehensive security system.
Agnitum's decision to develop a free version of its flagship product has nothing to do with climbing on the bandwagon of acclaimed gratuitous solutions. Despite economical trends and high development costs, the company sees its goal as to equip the IT community and average internet users with the main parts of the security construction set at no cost.
Those parts are: the best-of-breed two-way personal firewall, host protection module which blocks suspicious activity and 0-day threats and self-protection which prevents product deactivation by malware. All this coupled with minimum impact on system resources makes Outpost Firewall Free a must-have instrument for an unprotected PC.
Features and benefits
Outpost Free, an heir to the brand-new Outpost Firewall Pro 2009, provides pure firewall and proactive protection functions omitting extra add-ons. The free version includes:

The two-way firewall stops inappropriate or malicious access to your computer from both internal (LAN) and external (Internet) sources. As a frontline defense, it prevents malware from spreading or "phoning home", providing protection against hackers, loss of personal data, unknown malware, and unauthorized program activity.
Protection that can't be shut down by hackers
Today's malware frequently seeks to shut down security software to make its infection process easier. By incorporating solid tamper-proof protection for all its components, Outpost Firewall makes it impossible for anyone except the authorized user of the program to disable or close active protection.
Application behavior monitoring
Outpost's Host Protection module monitors how programs interact to protect your system against high-level security breaches and has passed all well-known leaktests to prevent unauthorized transmission of information from your PC.
Intuitive, resource-friendly operation
Whether you're a security novice or expert, you can easily configure Outpost Firewall to meet your needs. Thanks to automated and context-sensitive help, the firewall can learn how to handle alerts and make decisions for you, so you can focus on what you want to do, and leave the security to Outpost.
Activity monitoring capabilities
Outpost's Network Activity Monitor shows every connection your PC makes with other computers on the Internet or local network, so you can see what's happening on your PC at all times.
It should be noted that Outpost is one of very few solutions on the market to offer "native" support of 64-bit platforms and has been specifically designed to comply with both 32- and 64-bit systems.
The paid version of Outpost Firewall also offers identity protection, antispyware engine powered with speedy SmartScan technology, web control that blocks malicious internet content, free technical assistance and multi-language support, just to name a few.
System requirements
Outpost Firewall Free is compatible with Windows Vista SP1, XP SP3, as well as all previous 32- and 64-bit versions from Windows 2000 onwards. The product will work smoothly on a 450 MHz or faster CPU (x86/x64/multi-core) with 256Mb RAM.
The product is available in English only.
Outpost Firewall Free can be downloaded from http://free.agnitum.com/.
About Agnitum
Founded in 1999, Agnitum Ltd. (http://www.agnitum.com) is committed to delivering and supporting high-quality, easy to use security software. The company's products are standalone Outpost Firewall Pro, Outpost AntiVirus Pro and Outpost Firewall Free, securing personal and family desktops; Outpost Network Security, ensuring reliable endpoint protection and performance for small business networks; and Outpost Security Suite -- an all-in-one Internet security solution.
For more information, please contact:
Pavel Goryakin
Agnitum Ltd.
###