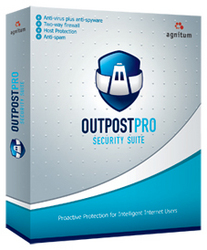 At this point, it's crucial to eliminate any remaining inconsistencies and errors from earlier versions in order to move forward towards the new feature-packed Outpost Pro 2010. We've been particularly focused with this version on a high degree of user-friendliness by making product activities more predictable and transparent to the benefit of all users - from novice to experts
St. Petersburg, Russia (PRWEB) September 29, 2009
The security experts at Agnitum, developers of the Outpost Pro line of computer security products, are pleased to announce the latest versions of Outpost Firewall Pro, Outpost Security Suite Pro and Outpost Antivirus Pro 2009 - 6.7.1. This release is yet another step in the company's ongoing product improvement process that, combined with beneficial new functionality, will lead to the launch of Outpost Pro 2010 later this year.
Version Outpost 6.7.1 follows the focus on quality and stability adopted by Agnitum's development team since the beginning of 2009, which is designed to solve known problems, protect against unknown problems, and deliver greater transparency and ease-of-use in the face of increasingly complex product functionality. This ongoing focus results in new releases every two months, with each version providing even better interoperability with third-party solutions, fixes for previously-detected issues, and the next brick in the foundation for future functional enhancements.
"From the outset, Outpost solutions have significantly differed from the majority of security products," says Agnitum's CTO Maxim Korobtsev. "At this point, it's crucial to eliminate any remaining inconsistencies and errors from earlier versions in order to move forward towards the new feature-packed Outpost Pro 2010. We've been particularly focused with this version on a high degree of user-friendliness by making product activities more predictable and transparent to the benefit of all users - from novice to experts".
With version 6.7.1, Agnitum's development team reached another important compatibility milestone, one relating to Windows 7 RC and Vista SP2. A recent Windows update caused Microsoft's Action Center to report that Outpost antivirus and firewall were disabled, while they were in fact actively protecting the system. This situation will not now recur.
During the two months since the launch of version 6.7, Agnitum has introduced the following improvements:

Updated antivirus module
Enabled Action Center support on Windows 7 and Vista SP2
A bug that prevented attachments from being downloaded through POP3 in Microsoft Outlook 2000 and Microsoft Outlook 2007 has been fixed
System Restore now works smoothly under Windows Vista
Quick Tune plug-in has been added for Internet Explorer (x86) on x64 systems
Several issues with real-time protection monitor have been resolved
System performance when running full-screen applications on Windows 7 x64 has been stabilized.
Improved compatibility with Windows 7
Outpost first achieved compatibility with Windows7 RC in its 6.7 iteration, which shipped in July 2009. Since then, Outpost antivirus solutions have worked smoothly and securely on all popular Windows operation systems - Windows XP, 2000 Pro, Server 2003/2008, Vista and Windows7, including the newest service packs.
Full-functional 30-day trials of Outpost Pro 6.7.1 solutions are available for download at http://www.agnitum.ru/products/
About Agnitum
Founded in 1999, Agnitum Ltd. (http://www.agnitum.com) is committed to delivering and supporting high-quality, easy to use security software. The company's products are standalone Outpost Firewall Pro and Outpost AntiVirus Pro, securing personal and family desktops; Outpost Network Security, ensuring reliable endpoint protection and performance for small business networks; and Outpost Security Suite -- an all-in-one Internet security solution. The company has resellers and partners in 60+ countries and delivers its software in English, French, German, Russian, Spanish as well as other European and Asian languages.
For more information, please contact:
Pavel Goryakin
Agnitum Ltd.
###