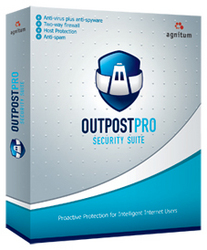 St. Petersburg, Russia (PRWEB) May 26, 2010
The security experts at Agnitum, developers of the Outpost Pro security product line, are pleased to announce the availability of the Outpost 7 product line. Packed with new functionality and incorporating comprehensive support for Microsoft Windows 7, the latest versions add another layer of preventive protection and enhanced security to address both online and offline risk factors.
Outpost Security Suite Pro 7 continues to provide Agnitum's traditional signature-based anti-spyware and anti-virus, heuristic analysis, proactive protection, acclaimed personal firewall, ad- and malsite-blocking, and self-learning anti-spam.
Outpost Firewall Pro 7 and Outpost AntiVirus Pro 7 offer subsets of the suite's functionality, focused respectively on protection against hacker attacks and malware protection.
Outpost solutions traditionally combine proactive and reactive security measures aimed at preventing infection before it tries to spread over and targeted approach to every registered virus, respectively.
Outpost7 incorporates enhanced automatic protection of digital data. As with previous versions the new Outpost adheres to preemptive defense against both known and zero-day threats, which ensures virus-free environment for users of all levels. As for advanced users, they will like the ability to tweak and tune provided by the whole lot of new analysis tools and configuration opportunities.
The all-in-one Outpost Security Suite (OSS) Pro 7 adds:

protection for cached login details and passwords, electronic wallet IDs, etc. stored by the browser, IM exchanges, and electronic payment processors – to resist personal data theft and zero-day threats
protection against malware corruption for locally-stored digital valuables
file and registry activity monitor - for deep analysis of ongoing events
updated user interface and compatibility following the introduction of Windows 7
new iteration of the heuristic module (HAX – heuristic analyzer X)
restored "stop words" web filter which traces back to the earlier versions of Outpost
Improvements to existing functionality include:
enhanced scanning performance and usability
extended anti-leak functionality
the new auto-updated antimalware engine certified by VB100
firewall tweaks: smooth transition to Windows Filtering Platform and decreased channel load.
The final versions of all three products are available for download at http://www.agnitum.com/products/
Outpost Pro 7.0. Feature list
New and improved functionality details
New! System and Application Guard
System and Application Guard delivers comprehensive protection against zero-day threats, ensuring that even the newest malware will not be able to access critical personal data. In earlier versions, Outpost's identity theft prevention was focused around ID Block, which encrypts credit card numbers and passwords, and blocks network packets containing confidential data.
In Outpost 7, Agnitum has extended the 'digital safe' concept, adding a totally new layer of protection for local applications.
The new Application Guard monitors all locations where instant messenger applications, browsers, and electronic payment processors store sensitive personal data (cached login details and passwords, electronic wallet IDs, etc.) to protect the data from being accessed and hijacked by unauthorized and unrelated applications. The feature flexibly secures all sorts of private information (not limited to just passwords or IDs) however variable it may be as stored by commonly used applications.
New! File and Folder Lock
File and Folder Lock enables protection of locally-stored assets against access or corruption by malware. Users can simply highlight a folder or file using Outpost's advanced menu and set a password. With just a few clicks, private, secret or otherwise sensitive content, secured by the Outpost configuration password, is secured against access by children, colleagues, and other users of the computer, as well as from external threats such as spyware.
Improved! Anti-Malware
Usability
The option to automatically remediate infections detected by the real-time monitor is now the default action to speed clean-up and return to productivity
Quarantine now also facilitates decision-making about neutralized suspicious objects; quarantined files can be easily restored or destroyed, separately or in bulk, from the menu with just a couple of clicks.
The heuristic analyzer (HAX) engine, which analyzes suspicious behavior in autorun objects, is now accessible through the user interface
Quick engine updates: The new anti-malware engine automatically updates itself as part of the regular malware database update process; no separate product update is needed.
New! File and registry activity monitor
An invaluable aid for advanced users, the monitor provides a big picture of current file and registry activity. The user can analyze every active process, its path and time as well as track registry modifications in order to take action with Outpost's ample functionality. Besides, one may opt to take a snapshot of the monitor's records for deeper analysis or, if required, terminate a suspicious process right from the on-screen list.
Improved! Updated anti-leak capabilities
Outpost 7.0 continues to enhance the software's anti-leak arsenal to address the latest zero-day threats and data leakage techniques employed by sophisticated malware.
New! Revamped user interface
The solutions were redesigned to reflect the Windows 7 look and feel, and to provide better visibility for product notifications.
Improved! Optimized performance
Outpost 7.0 solutions deliver improved performance and use fewer system resources thanks to a number of measures:

Intelligent filtering of P2P channels
A more efficient anti-malware update process
Greater interoperability with applications and web sites using Middle Eastern and Asian character sets
New! Extended compatibility
Outpost 7.0 has been designed to be fully compatible with Windows 7, Vista (up to SP2), Windows XP (up to SP3), Windows Server 2003 and 2008, as well as all previous 32-bit versions from Windows 2000 onwards and all 64-bit Windows.
System requirements and availability
All three products will work best on a 450 MHz or faster CPU (x86-/x64-/multi-core) with 256Mb RAM and 50/150/200 Mb (for Firewall, Antivirus and Security Suite, respectively).
About Agnitum
Founded in 1999, Agnitum Ltd. (http://www.agnitum.com) is committed to delivering and supporting high-quality, easy to use security software. The company's products are Outpost Firewall Pro and Outpost Antivirus Pro, securing personal and family desktops; Outpost Network Security, ensuring reliable endpoint protection and performance for small business networks; Outpost Security Suite — an all-in-one Internet security solution; and Outpost Antivirus Service – solid antivirus protection by subscription via ISPs.
For more information and to request review copies of Outpost 7 products, please contact:
Pavel Goryakin
PR Manager, Agnitum
Tel.: + 7-812-336-52-45, ext. 107 Skype: goryakin
###