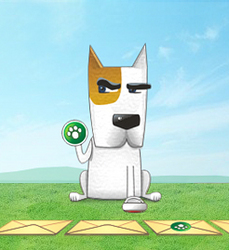 Spam Terrier is now on friendly terms with The Bat!, as well as 64-bit Windows and Vista email clients
St. Petersburg, Russia (PRWEB) August 27, 2008
The computer security experts at Agnitum, publisher of the acclaimed Outpost Pro product line, today unleashed Spam Terrier 2.0, which provides users of Microsoft Outlook, Outlook Express, Windows Mail (in Vista) and now The Bat! with self-learning protection against unwanted email.
"Spam Terrier is now on friendly terms with The Bat!, as well as 64-bit Windows and Vista email clients," said Alexey Belkin, Chief Software Architect at Agnitum. "Our users began asking for broader email client support for some time, and we're pleased to finally be able to deliver this support, along with additional new functionality to further improve Spam Terrier's ability to guard users' inboxes against spam."
As with the previous version, Spam Terrier 2.0 is free to all users and now provides even more wide-ranging protection for email users, around the clock and around the globe. With the new support for popular email client The Bat!, we can confirm that Spam Terrier is going to bat for all email users, no matter what their outlook …
Spam Terrier offers a user-friendly interface and easy customization to help users get started with teaching the software their personal definition of spam. Then the self-learning engine, based on Bayesian principles, takes over, ensuring significantly fewer false positives and misjudged messages.
Spam Terrier is 'behavior'-driven rather than the more typical criteria-driven approach of other anti-spam products. In other words: users can select what they consider spam and teach the product to recognize the specific behavior patterns of junk mail.
The more you train Agnitum Spam Terrier, the better its nose for inappropriate mail. This is achieved through a system of "spam scores", which classify a message as "not spam", "probable spam" or "definite spam". Users can alter the principles for such classification in order to adjust the software's level of tolerance for different types of message. But however "tolerant" the application may be, it will never let unwelcome guests in - Spam Terrier is constantly scanning new mail in search of fresh spam samples. Spam Terrier uses this data to update its database, increasing the accuracy level dramatically.
Spam Terrier not only barks when it spots spam, it bites fraudulent correspondence, too. With Spam Terrier to define white and black lists, as well as customized settings, users will never miss a valid message from a friend or colleague. And Spam Terrier will guide users through the easily-manageable interface and intuitive, convenient controls.
Spam Terrier is fully compatible with all Windows operating systems from 2000 onwards, including Windows Vista and its built-in mail client Windows Mail.
New support for The Bat!
After installing Spam Terrier, the user's The Bat! window will display two basic commands -"mark as spam" and "mark as non-spam", as well as the black/whitelist menu. These tools will help The Bat! users to easily define benign and malicious messages, ensuring that before long, spam will lose its way to the inbox.
New support for 64-bit Microsoft email clients
Spam Terrier 2.0 now supports all 64-bit email programs from Microsoft: Outlook, Outlook Express and Windows Mail.
More effective filtering algorithm
By creating a structure of specific libraries of email samples, managing current statistics and archiving obsolete knowledgebase data, Spam Terrier 2.0 enables more accurate decision-making and avoids false positives, ensuring that legitimate email will always be delivered to the user's inbox.
Automatic base tuning
The Bayesian filtering principle implies training on an equal number of "bad" and "good" messages. However, in the majority of cases, the user's mailbox contains an unequal mixture of spam and legitimate messages, with either the former or - sometimes - the latter predominating. To avoid this bias impacting the engine's learning efficiency, Spam Terrier 2.0 references an internal sample base in order to tune itself to provide greater accuracy moving forward.
Spam awareness evolves over time
As spam evolves, the product's knowledgebase will ensure Spam Terrier 2.0 keeps pace with the changes. While it is strongly recommended to train the filter from the start in order to maintain the accuracy of the filter, Spam Terrier also performs its own analysis of "new" and "odd" spam samples to extend and update the database.
Spam Terrier 2.0 is available now at no charge and can be downloaded from the Agnitum website at http://www.agnitum.com/products/spam-terrier/index.php. The product supports multiple email accounts in The Bat!, Microsoft Outlook, Microsoft Outlook Express, and Windows Vista Mail (both 32- and 64-bit) and is available in English, German, Spanish, French, and Russian.
About Agnitum
Founded in 1999, Agnitum Ltd. (http://www.agnitum.com) is committed to delivering and supporting high-quality, easy-to-use security software. The company's major products are Outpost Firewall Pro and Outpost AntiVirus Pro, securing personal and family desktops; Outpost Network Security, ensuring reliable endpoint protection and performance for small business networks; and Outpost Security Suite -- an all-in-one Internet security solution.
For more information, please contact:
Pavel Goryakin
Agnitum Ltd.
Email: goryakin @ agnitum.com
Tel.: + 7-812-336-52-46, ext. 113
Skype: goryakin
Blog: agnitumblog.blogspot.com
###