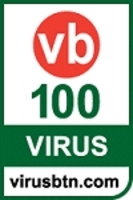 St. Petersburg, Russia (PRWEB) June 10, 2009
Internet security experts at Agnitum announce the results of the latest anti-virus tests carried out by Virus Bulletin magazine on Outpost Security Suite Pro 2009 and 21 other personal anti-virus and security suite products running under Windows Server 2003 x64. The VB 100 award is an important indicator of competency in virus and spyware detection and timely updates - crucial factors in the battle to resist evolving malicious software.
Outpost Security Suite is one of just four products to achieve 5 awards in a row in 2008-2009!
By achieving the award for its anti-virus capabilities in these tests, Outpost Security Suite Pro 2009 clearly shows once again that it is fully compliant with today's requirements for effective anti-virus protection.
According to Virus Bulletin, "with no issues in the current WildList set, no false positives and no other problems, Agnitum starts this month's comparative off well by winning a VB100 award".
It should be noted that Outpost Security Suite Pro 2009 is one of very few solutions on the market to offer "native" compatibility with 64-bit platforms and has been specifically designed to work smoothly on both 32- and 64-bit systems. The time-proven architecture of Outpost Security Suite provides all-round security - in addition to detecting viruses, spyware and adware by signatures, the product incorporates proactive protection that prevents zero-day threats and leakage of confidential data, which stands for even greater protection in real-time conditions.
Outpost Security Suite Pro 2009, Agnitum's all-in-one solution based on the award-winning Outpost Firewall Pro, offers:

All-in-one anti-malware for comprehensive antivirus and antispyware defense with the improved SmartScan 3 technology which makes malware scans up to 10 times faster
A two-way firewall to safeguard connections and prevent data leakage
Extended Host protection to protect against zero-day threats and anti-keylogger to avoid spying on the data entered through a keyboard
Heuristic analyzer of malicious activity
Rigorous monitoring of auto-started objects as part of Anti-malware module
Web control for safe surfing and blocking unwanted content
IP Blocklist to blacklist specified Internet domains and restrict incoming and outgoing traffic from sites with bad reputations
Self-learning anti-spam that integrates directly into Microsoft Outlook, Outlook Express, Vista Mail and The Bat!
"Native" compatibility with 64-bit platforms, and much more.
The new iteration of Agnitum's all-in-one solution and standalone products - compatible with new Windows Server 2008 and Vista's service packs as well as Windows 7 RC (in beta regime) and featuring enhanced anti-malware engine, is expected in summer 2009 and will be granted a special notification.
The latest edition of Outpost Security Suite Pro is available for download at:
http://www.agnitum.com/products/security-suite/download.php.
About Agnitum
Founded in 1999, Agnitum Ltd. (http://www.agnitum.com) is committed to delivering and supporting high-quality, easy to use security software. The company's products are standalone Outpost Firewall Pro and Outpost AntiVirus Pro, securing personal and family desktops; Outpost Network Security, ensuring reliable endpoint protection and performance for small business networks; and Outpost Security Suite -- an all-in-one Internet security solution.
For more information, please contact:
Pavel Goryakin
Agnitum Ltd.
###