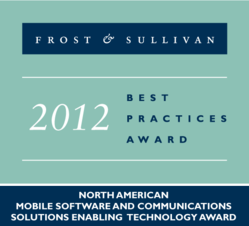 AGNITY's APTUS™ application platform has truly revolutionized healthcare communications by reducing costs while improving patient outcomes through speed and efficiency
(PRWEB) September 17, 2012
SILICON VALLEY – Sept. 17, 2012 – AGNITY, global application solutions innovator, announced today that Frost & Sullivan, a leading analyst firm, has named AGNITY Healthcare as the recipient of its 2012 North American Enabling Technology Award for Mobile Software and Communication Solutions. The prestigious award recognizes AGNITY for delivering the APTUS™ Platform, the industry's first mobile clinical communications and collaboration platform that bridges the gap between today's communications IT and Healthcare IT silos. The award was given based on Frost & Sullivan's independent best practices analysis of mobile software and communication solutions that enable improved healthcare delivery.
With an objective to improve communications and decision-making among clinicians, enabling them to achieve better outcomes for their customers, AGNITY developed the APTUS Platform that powers MobileCare™, a secure Mobile Clinical Communications and Collaboration solution. The APTUS™ Platform bridges the communications IT and healthcare IT silos by interfacing with electronic medical records (EMRs), computerized physician order entry systems (CPOEs), lab systems, PBX's, directory servers, nurse call stations and all hospital information systems (HIS). These communications and healthcare IT interfaces enable AGNITY Healthcare to provide live and real-time patient information when doctors and caregivers communicate and collaborate with each other. The platform and solutions are fully HIPAA-compliant and optimized for secure deployments whether on premises or in the cloud. They are supported on multiple popular smartphone & tablet platforms and operating systems.
"We're delighted to receive this award from Frost & Sullivan," said Ken Epps, president of AGNITY Healthcare. "AGNITY Healthcare is driven by the underlying principle that reaching the right people at the right time with the right information saves time, money and lives. Feedback from healthcare CIOs and CMIOs using MobileCare™ and the APTUS™ platform validates the benefits of unifying communications and healthcare IT systems and the value it delivers to clinicians in terms of convenience, ease of use, and faster and better decision-making."
"When it comes to connectivity and software application tools being developed for remote cellular monitoring, AGNITY's APTUS™ application platform offers unmatched value for both patients and clinicians. It is a competitive back-end solution that has truly revolutionized healthcare communications by reducing costs while improving patient outcomes through speed and efficiency," noted Prasanna Vadhana Kannan, industry analyst for Frost & Sullivan. "The clear value behind APTUS™ is that it improves operational efficiencies for the healthcare enterprise, accelerates the implementation of mobile communications technologies and contributes to their meaningful use criteria."
The Frost & Sullivan Award validates AGNITY's commitment to providing innovative solutions to meet the communications challenges of the healthcare industry.
About AGNITY
AGNITY is a leading global provider of communication solutions that transform, innovate and accelerate the delivery of rich-media applications across multiple industry verticals.
AGNITY Healthcare is a leading provider of applications and services that harnesses the power of mobility and the Internet to improve access and the quality of healthcare. AGNITY Healthcare solutions deliver the freedom of healthcare on demand by connecting patients, doctors, payers and hospitals anytime, anywhere. By helping healthcare scale to reduce costs, expand capacity, and improve productivity of healthcare delivery, AGNITY Healthcare helps improve patient care and the patient-provider relationship.
With locations in Silicon Valley, Richardson (Texas), Toronto (Canada), and Noida (India), AGNITY is a unique company providing global support exclusively on application design, solution development, and application migration and deployment.
For more information, visit http://www.agnity.com and http://www.agnityhealthcare.com.
About Frost & Sullivan
Frost & Sullivan, the Growth Partnership Company, enables clients to accelerate growth and achieve best-in-class positions in growth, innovation and leadership. The company's Growth Partnership Service provides the CEO and the CEO's Growth Team with disciplined research and best-practice models to drive the generation, evaluation and implementation of powerful growth strategies. Frost & Sullivan leverages 50 years of experience in partnering with Global 1000 companies, emerging businesses and the investment community from more than 40 offices on six continents.
For more information, visit http://www.frost.com.
AGNITY®, the AGNITY® logo, APTUS™, MobileCare™ and combinations thereof are trademarks of AGNITY, Inc. in the United States and other countries. Other names, logos, brands, and trademarks listed or referred to are the property of their respective trademark holders. The trademark holders are not affiliated with AGNITY, Inc. and do not sponsor or endorse these materials or its products. All rights reserved.
AGNITY Contact:
Media Relations Team
media_relations (at) agnity (dot) com
(510) 270-5412
AGNITY, Inc.
http://www.agnity.com
Frost & Sullivan Contact:
Mireya Espinoza
P: 210. 247.3870
F: 210.348.1003
E: mireya.espinoza (at) frost (dot) com