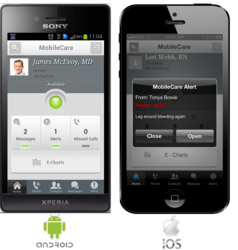 It's simple and easy to use, and our clinicians like it. It gives us the immediate comfort of knowing that text messaging and other communications that our staff likes to use on their smartphones can now be done in a secure and HIPAA compliant fashion
Silicon Valley (PRWEB) June 20, 2013
AGNITY Healthcare (AHI), a leading provider of secure contextual messaging and collaboration solutions and services today announced that Meritus Medical Center has deployed the company's award winning APTUS MobileCare™ for its secure communications and collaboration needs.
Meritus Medical Center is a 350-bed not-for profit acute care hospital located in Hagerstown, Maryland and serves residents of western Maryland, southern Pennsylvania and the panhandle of West Virginia. The hospital has over 1500 direct and affiliated clinicians and currently offers general hospital inpatient services including adult medical and surgical care, obstetrics and newborn care, including a family birthing center, cardiac catheterizations, comprehensive inpatient rehabilitation, radiology and diagnostic services, inpatient and outpatient mental health services, a regional Level III Trauma Center, an intensive care unit, a progressive care unit, a coronary care unit, and a pediatric unit.
Jake Dorst, VP & CIO - Meritus Medical Center, wanted a secure mobile communications and collaboration solution for his staff that worked on smartphones and tablet devices. "Improving patient satisfaction, nurse and physician satisfaction, and productivity are high priorities for any communications technologies we bring into our facilities, and APTUS MobileCare™ met that threshold. It's simple and easy to use, and our clinicians like it. It gives us the immediate comfort of knowing that text messaging and other communications that our staff likes to use on their smartphones can now be done in a secure and HIPAA compliant fashion using MobileCare™. Further, with a simple upgrade and using the same interface, the staff can link and share patient data along with their text, voice and video communications enabling faster and more reliable decisions at the point of care. APTUS MobileCare™ makes AHI the perfect communications partner for today, tomorrow and the future."
"We are pleased Meritus selected APTUS MobileCare™ for its secure contextual messaging and communications needs. Working with an innovative organization of Meritus' caliber has been a rewarding experience for us as we further enhanced MobileCare™ to meet the needs of its clinical staff. We look forward to continuing our partnership with the Meritus team to help ensure that its goals are achieved," said Ken Epps, CEO – AGNITY Healthcare, Inc.
APTUS MobileCare™ is a HIPAA compliant patient-centric secure messaging and communications client for smartphones and tablet devices that immediately improves response times to patient requests while avoiding noisy overhead paging systems. It improves clinical workflow among clinicians in the patients' circle of care by enabling more efficient communication and collaboration, which enables faster and better decisions at the point of care. MobileCare™ also enables physicians affiliated with hospitals to be more responsive to patient needs whether moving around inside the hospital or outside at their practices. The results are better HCAHPS scores, shorter length of stay and higher clinical staff satisfaction and productivity.
About AGNITY Healthcare
AGNITY Healthcare is a leading provider of applications and services that harnesses the power of mobility and the Internet to improve access and the quality of healthcare. AGNITY Healthcare solutions deliver the freedom of healthcare on demand by connecting patients, doctors, payers and hospitals anytime, anywhere. By helping healthcare scale to reduce costs, expand capacity, and improve productivity of healthcare delivery, AGNITY Healthcare helps improve patient care and the patient-provider relationship.
For more information, visit http://www.agnityhealthcare.com
About AGNITY Inc.
AGNITY is a global application solutions and technology services company dedicated to help businesses, network equipment manufacturers, and service providers by designing, developing, and deploying application solutions rapidly and cost-effectively. With locations in Silicon Valley, Richardson Texas, Toronto Canada, and Noida India, AGNITY is a unique company providing global support exclusively on application design, solution development, and application migration and deployment.
For more information, visit http://www.agnity.com.
AGNITY®, AGNITY HealthCare®, the AGNITY® and AGNITY HealthCare® logos, APTUS™, MobileCare™ and combinations thereof are trademarks of AGNITY, Inc. in the United States and other countries. Other names, logos, brands, and trademarks listed or referred to are the property of their respective trademark holders. The trademark holders are not affiliated with AGNITY, Inc. and do not sponsor or endorse these materials or its products. All rights reserved.
For further information on AGNITY please contact:
media_relations(at)agnity(dot)com
510-270-5412
http://www.agnity.com