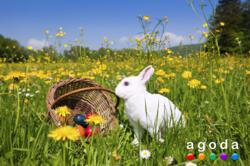 Singapore (Vocus/PRWEB) March 16, 2011
Agoda.com, Asia's global hotel booking site and part of Nasdaq-listed priceline.com Inc. (Nasdaq: PCLN), today released special Easter holiday rates in several worldwide destinations.
Around the world, Easter traditions take on many forms. Though Easter derives from Christian scripture, the holiday that surrounds it is celebrated both by Christians and non-Christians in a wide variety of ways.
In many places, Easter is as intertwined with chocolate and hot cross buns as it is religion. In Australia, the Easter holidays coincide with the country's largest agricultural show. In Rome, the Pope leads several 'Holy Week' masses, and in the Philippines, Catholic devotees fast and enact crucifixions.
Easter around the world showcases an intriguing diversity of traditions, from the secular to the sacred to the sugar-laden. Here are just a handful of different regional experiences travelers can observe and take part in around Easter time.
Rome
Celebrations in the Papal city showcase Rome at its busiest. For travelers who love ritual and ceremony it's a great Easter destination – the weather is mild and there are many Holy Week events. Starting from Holy Thursday (April 21), the Pope delivers masses to crowds in St Peter's Square and events continue until Easter Sunday. During Easter, Rome fills with Catholic pilgrims and accommodation can be difficult to find if not booked early.
London
Easter is a much more secular celebration in London, with a great range of events. A popular activity is the organized Easter egg hunt, where foil-covered chocolate eggs of all sizes are hidden in parks and gardens. These hunts usually take place in old English estates with beautiful manicured gardens – spending a few hours wandering these gardens is a treat in itself. This year, the royal wedding of Prince William and Kate Middleton coincides with the Easter long weekend, so it will be particularly busy time.
Sydney
While chocolate eggs and rabbits are a major focus of Easter in Australia, it's also a time when Sydney's city folk get to experience rural life. For two weeks, the Sydney Royal Easter Show brings equestrian events, cattle judging, wood-chopping, sheep shearing and agricultural displays to the city. Highlights include a baby farm animal petting zoo, carnival rides, sheep dog shows and themed showbags full of toys and sweets.
Barcelona
In Spain, Holy Week is known as 'Semana Santa'. This week is full of special events, and traditional Easter foods extend beyond chocolate eggs. On Good Friday, many Christians abstain from eating red meat and in Barcelona it's traditional to eat cod fish. Easter cake – la Mona de Pascua – is also a popular Catalan treat. La Mona de Pascua is a ring-shaped cake decorated with hard-boiled eggs and given from godparent to godchild at the end of Lent (the fasting period).
Manila
The Philippines' most publicized Easter practice is that of voluntary 'crucifixion' by Catholic devotees. The Passion play, which takes place on Good Friday in San Pedro Cutud, an hours' drive north of Manila, involves penitents having their hands and feet nailed to crosses. The event is more festive than solemn and many tourists and locals come to watch, with street vendors selling souvenirs and snacks. After fasting for Lent, Easter Sunday is a day of celebration and many luxury hotels in Manila hold organized egg hunts and family games.
Agoda.com Easter Hotel Specials
London
51 Buckingham Gate Hotel – 5 stars
Easter Royal Wedding Special! Enjoy 20% discount. Rates from USD 198 per night.
Rockwell Hotel – 4 stars
Easter Royal Wedding Special! Stay a minimum 3 nights in a Superior Room and enjoy 20% discount. Rates from USD 174 per night.
###
Studios 2 Let – 4 stars
Last minute special! Book within 2 days of your stay and enjoy 15% discount. Rates from USD 123 per night.
Manila
Heritage Hotel – 4 stars
Special Holy Week deal! Enjoy 30% off from April 17 – 23.
Sofitel Philippine Plaza Manila Hotel – 5 stars
Special Holy Week Deal! Pay 2 nights, stay 3 nights from April 17 – 23.
Rome
Melia Roma Aurelia Antica Hotel – 4 stars
Average rate USD 85 per night. Book now to avoid disappointment!
B&H Fiume Hotel – 4 stars
From USD 241 per night during Holy Week – limited rooms available!
Sydney
Travelodge Sydney Hotel – 3.5 stars
Standard Rooms from USD 130 per night. Normal rate USD 165. No booking fee!
Posh Hotel – 3 stars
King bed room from USD 226 per night. Tax included in rate, no booking fee, free internet!
Barcelona
Eurostars Laietana Palace Hotel – 4 stars
Nightly rate from USD 101. Minimum stay 3 nights – book early to enjoy 15% discount.
Barcelona Universal Hotel – 4 stars
Rates from USD 161 per night. Book at least 20 days in advance to enjoy 20% discount.
Hotel Diagonal Zero – 4 stars
Rates from USD 125 per night. Book at least 20 days in advance to enjoy 10% discount.
About Agoda Company Pte Ltd:
Agoda Company Pte Ltd (http://www.agoda.com) is a leading Asia-based, online hotel reservations company, which specializes in securing the lowest discount hotel prices. Agoda.com is part of Priceline.com (Nasdaq:PCLN). Agoda's network includes more than 160,000 hotels worldwide. The multinational staff of more than 600 professionals, located throughout the world, provides a first-rate reservation service that uniquely combines local knowledge and local connections to provide the best hotel deals to both business and leisure travelers.
In addition, Agoda customers participate in the Agoda Rewards Program, earning further discounts and free stays. Unlike programs that limit travelers to a single chain, the Agoda Rewards Program allows customers to redeem Rewards Points at thousands of hotels around the globe, at any time. A member of the Pacific Asia Travel Association (PATA), Agoda's aim is to promote travel by making it more affordable and more accessible to more people.
###