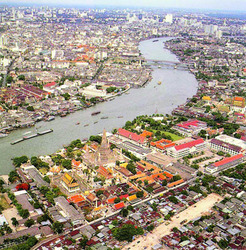 Bangkok, Thailand (PRWEB) September 30, 2008
Already a tourist hot spot (both figuratively and literally), Bangkok is now unlike any time in the past, as the readers of Travel and Leisure just acknowledged by voting Bangkok the "World's Best City, 2008". Being a city so rich in sights and sounds, seemingly everywhere, Bangkok can feel overwhelming at times. Luckily Bangkok hotels have made enjoying the city's wonderful madness a little easier by creating outstanding viewpoints to enjoy this vast city. Agoda.com salutes Bangkok and proposes top 10 hotels to check out some of Bangkok's amazing views.
Today, Bangkok sprawls in every direction, extending beyond the horizon. Still a massive network of streets and sois, the city now bristles with skyscrapers, mega malls, elevated expressways and sky trains. The ubiquitous food stalls, markets, world class shopping and nightlife still attract tourists in droves, but it's the elegance and modernity of the city that consistently surprises.
Michael Kenny, CEO of Agoda.com, says, "Bangkok is a city full of energy and beauty. It's also a city with an eclectic mix of contradictions. The food stalls, markets, shopping and culture; all this activity happens in surroundings that are both classically Thai and ultra-modern. The churning Chao Phraya River lined with ancient temples set against a modern skyline is truly a unique sight. Bangkok hotels have embraced the city's diverse nature, creating rooftop bars, restaurants and viewpoints that rival anyplace in the world. Those who get to live in Bangkok experience all its delights on a daily basis. It looks like the rest of the world has finally started to take notice Bangkok deserves this award."
Agoda.com is an Asia-based, worldwide online hotel bookings company, renowned for its expertise in the Bangkok marketplace, and offers hotel reservations with nearly 300 Bangkok hotels to choose from. The staff at Agoda has chosen the top 10 hotels where tourists can indulge in some amazing views of Thailand's "City of Angels".
Agoda's Top 10 hotels showcasing Bangkok's amazing views are:
1. Lebua at State Tower -- Sirocco- Located on the 63rd floor of The Dome at the Lebua at State Tower, Sirocco is the world's highest al fresco restaurant. Also one of Bangkok's most coveted dining choices, the experience never fails to leave one mesmerized. This award-winning restaurant offers breathtaking views of Bangkok and the Chao Phraya River.
2. The Banyan Tree -- Vertigo Grill & Moon Bar - Located on the 61st floor, Vertigo is one of the landmarks of fine dining in Bangkok. The top floor of the Banyan Tree Hotel offers spectacular panoramic views of Bangkok. Even without trying the decadent menu, just witnessing the sunset at Vertigo is an unforgettable experience. The slow melt of the sun into darkness, ultimately revealing the sparkling lights of the Bangkok night, leaves guests awestruck.
3. Centara Grand at CentralWorld -- A gourmet dining & grill restaurant, Fifty Five is dramatically perched on the 54th & 55th floors, with amazing views of Bangkok, set to serve the very best Thailand has to offer. Red Sky a chic, urban bistro and lounge with breathtaking, al fresco vistas of Bangkok, located on the 55th floor. Both scheduled to open in September 2008.
4. The Dusit Thani -- D'Sens - A graceful French restaurant, D'Sens is located on the top floor of the hotel. The large windows allow guests to gaze out onto all the early evening activity of historical Lumpini Park and the hustle and bustle of Silom, Bangkok's city center.
5. The Landmark Hotel -- RR & B Bar - A roof-top steakhouse and bar, RR & B is located on the 31st floor, offering breathtaking views of the city's skyline and one of Bangkok's best grills.
6. The Westin Grande Sukhumvit Hotel -- Horizon Sky Lounge and Karaoke - Follow dinner with drinks, music and questionable karaoke at the Horizons Sky Lounge and Karaoke with its panoramic views of Bangkok's sparkling lights.
7. The Baiyoke Sky -- Thailand's tallest hotel with 3 fantastic restaurants located at its peak. The Bangkok Sky Restaurant on the 76th & 78th floors, the Crystal Grill on the 82nd floor and the rocking Roof Top Bar & Music on the 83rd floor, Thailand's highest entertainment venue.
8. The Mandarin Oriental Hotel -- The Verandah - With a massive patio extending out onto the Chao Phraya River, the elegant Verandah is the perfect spot to enjoy breakfast, lunch or dinner. Renovated in 2005 the Verandah serves delectable Asian and Western cuisines in subtle Thai surroundings. The majestic Oriental Hotel was just ranked number 14 in Travel and Leisure's Top 500 Hotels.
9. The Millennium Hilton-Bangkok -- Three Sixty Lounge - Sitting 32 floors up and chilling out to a little jazz, the Three Sixty Lounge provides the perfect setting to take Bangkok all in. A relaxed, romantic setting with an extensive cocktail list, this jazz bar is quickly becoming a city favorite.
10. The Peninsula Hotel -- Thiptara Restaurant - Thiptara literally translates to "heaven on water" and the Thiptara Restaurant is just that, set on the picturesque banks of the Chao Phraya River nestled under a huge Banyan tree. The Peninsula's new Thiptara Thai restaurant offers authentic, Thai home-style food served outdoors, in teakwood, Thai-style pavilions. Bangkok's outstanding Peninsula Hotel was just ranked number 17 in Travel and Leisure's Top 500 Hotels.
For more information regarding Agoda, please go to the website at http://www.agoda.com or contact the Agoda customer service team via telephone at +66 2 625 9100 or e-mail at info @ agoda.com
Note to Editors:
About Agoda Company:
Agoda (agoda.com) is an online hotel reservations service which specializes in securing the lowest discount hotel prices in Asia. Agoda is part of Priceline.com (Nasdaq:PCLN). Agoda's network includes 8,290 hotels in Asia and more than 49,700 worldwide. The staff of over 300 professionals, located throughout Asia, provides a first-rate reservation service that uniquely combines local knowledge and local connections to provide the best hotel deals to both business and leisure travelers.
In addition, Agoda customers participate in the Agoda Rewards Program, earning further discounts and free stays. Unlike programs that limit travelers to a single chain, the Agoda Rewards Program allows customers to redeem Rewards Points at thousands of hotels around the globe, at any time. A member of the Pacific Asia Travel Association (PATA), Agoda's aim is to promote travel by making it more affordable and more accessible to more people.
Press Information: Ms. Pornpavee Kullama
Phone: + 66 (0) 2 6259258
Email: pornpavee.kullama @ agoda.com
###