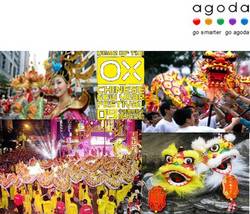 Bangkok, Thailand (PRWEB) January 14, 2009
The holiday celebrations continue as the Chinese New Year, the most important date on the Chinese calendar, comes early this year falling on January 26th. Agoda.com, an online hotel reservations company, readies itself for the Year of the Ox, helping Chinese communities celebrate by offering availability at preferred hotels, with great rates in top Asian destinations.
Chinese New Year or the Spring Festival is China's biggest celebration, with parties taking place in every Chinese town and city. In fact, celebrations happen around the globe in any city with its own "Chinatown". The festivals start the night before Chinese New Year when families gather for a traditional dinner and acknowledge the spirits of ancestors. The celebrations last for 15 days, each day having significance as Chinese families get together to celebrate and exchange gifts. The streets are lit up with red lanterns, twinkling lights and elaborate decorations. The famed dragon and lion dances are highlights of the parades held throughout the world.
Hong Kong celebrates with a characteristically flamboyant array of events and ceremonies. The festivities involve elaborate flower markets, a spectacular night parade, fabulous fireworks and plenty of other attractions. Macau invites tourists to witness its centuries-old festival with long dragon and lion dances winding through the streets, crowded ornate temples, glowing lanterns, colorful flower decorations, and entertainment in all corners of the city.
Influenced by its large Chinese community, Chinese New Year holds special significance in Singapore. Singapore's Chinatown is adorned in palatial decorations, evolving into a huge celebration with many special events, live entertainment and of course, fantastic food.
The Chinese New Year is celebrated in areas throughout Thailand too, but the best place to enjoy it is Bangkok's Chinatown on Yaowarat Road. The streets are filled with the sights, sounds, and smells of food stalls, while crowds shop the markets amidst the constant bang of firecrackers. Bangkok's Chinatown also has the traditional lion and dragon dances, cultural exhibitions, as well as a beautiful fireworks display.
Sydney's Chinese New Year celebration is now one of the city's largest events. The 'Year of the Ox' celebration is set to draw in excess of 600,000 people over the three colorful weeks. Sydney's first ever Chinese New Year Twilight Parade, exciting Dragon Boat Races and of course shopping at the famous Chinese New Year markets are all set to delight the masses.
Mr. Wilfred Fan, Agoda Vice President of Business Development, says, "The significance of the Chinese New Year is comparable to that of Christmas in the West but lasts longer and is full of that uniquely Chinese spirit. Each activity and performance holds special meaning and is believed that those in attendance will receive good luck throughout the year. In celebration of the Chinese New Year, Agoda.com secured exclusive availability with fantastic hotel rates in the most popular destinations. Customers should start booking immediately. With celebrations starting earlier this year, rooms will fill up quickly."
Agoda presents competitive hotel deals at the following locations:
Singapore
Link Hotel, Singapore - 4 star hotel. Rate starting at USD 107 (normally USD 221)
Rendezvous Hotel, Singapore - 4 star hotel, Rate starting at USD 103 (normally USD 179)
Thailand
Tenface Hotel, Bangkok,Thailand - 4 star hotel, Rate starting at USD 75 (normally USD 125)
Grand Diamond Pratunam, Bangkok,Thailand - 4 star hotel, Rate starting at USD 58 (normally USD 100)
Horizon Patong Beach Resort & Spa, Phuket,Thailand- 4 star hotel, Rate starting at USD 46 (normally USD 85)
Sydney
Rydges World Square, Sydney, Australia - 4 star hotel, Rate starting at USD 128 (normally USD 221)
Capitol Square Hotel, Sydney, Australia - 3+ star hotel, Rate starting at USD 74 (normally USD 128)
Macau
Grand Waldo Hotel, Macau - 5 star hotel. Rate starting at USD 151 (normally USD 172)
Emperor Hotel, Macau - 4 star hotel. Rate starting at USD77 (normally USD 83)
Hong Kong
Marco Polo Hong Kong Hotel, Hong Kong - 5 star hotel. Rate starting at USD 163 (normally USD 213)
Regal Oriental Hotel, Hong Kong - 4 star hotel. Rate starting at USD 118 (normally USD 132)
Taiwan
Caesarpark Hotel, Taiwan - 5 star hotel. Rate starting at USD 135 (normally USD 142)
Fullerton 41 Hotel, Taiwan - 4 star hotel, Rate starting at USD 100 with a pair of lucky lions (normally USD 103)
For more information regarding Agoda, please visit the website at http://www.agoda.com or contact the Agoda customer service team via telephone at +66 2 625 9100 or e-mail at info@agoda.com
Note to Editors
About Agoda Company:
Agoda (agoda.com) is an online hotel reservations service which specializes in securing the lowest discount hotel prices in Asia. Agoda is part of Priceline.com (Nasdaq:PCLN). Agoda's network includes 8,290 hotels in Asia and more than 49,700 worldwide. The staff of over 300 professionals, located throughout Asia, provides a first-rate reservation service that uniquely combines local knowledge and local connections to provide the best hotel deals to both business and leisure travelers.
In addition, Agoda customers participate in the Agoda Rewards Program, earning further discounts and free stays. Unlike programs that limit travelers to a single chain, the Agoda Rewards Program allows customers to redeem Rewards Points at thousands of hotels around the globe, at any time. A member of the Pacific Asia Travel Association (PATA), Agoda's aim is to promote travel by making it more affordable and more accessible to more people.
# # #