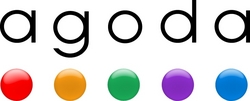 meeting the unique needs of the executive travellers through continuous innovation
Bangkok, Thailand (PRWEB) September 2, 2009
Agoda.com, a leading, Asia-based, online hotel reservation service and part of Priceline.com (Nasdaq: PCLN), today announced an agreement with - Frasers Hospitality Pte Ltd, a premier global serviced residence owner and management company to distribute their internationally renowned serviced residences. All the properties under the Fraser Suites, Fraser Place, Fraser Residence and Fraser Resort brands will now gain instant increased exposure via Agoda's multilingual websites and their worldwide distribution networks.
The distribution agreement allows Frasers Hospitality to access Agoda's latest version of their industry leading Yield Control System. This new version provides greater flexibility in managing inventory and rate structure as well as an easy way to offer varied promotions for today's competitive online market. Frasers Hospitality's luxury residences are found in key gateway cities throughout Europe, North Asia, Southeast Asia, Middle East and Australia. Agoda will now be offering attractive rates at available properties in Singapore, Bangkok, Beijing, Manila, Hanoi, Nanjing, Seoul, Shanghai, Shenzhen, Sydney, France and United Kingdom.
Wilfred Fan, Agoda's Vice President of Business Development said, "Recognition of the Frasers Hospitality's brand continues to grow throughout the region and we believe Agoda is the ideal platform to extend this expansion online. Our expertise in serviced accommodations is well known in the market place and customers value our recommendations and selection of quality properties. Having Frasers as an official partner continues to enhance our reputation. Our dedicated team will work closely with Frasers Hospitality and help advise on prices, promotions and market trends, making sure that each property is well positioned and presented to the millions of visitors to our sites and call centers."
Joanne Ang, Group Director, Sales & Marketing of Frasers Hospitality Pte Ltd., remarked, "As a global serviced residence company, we are happy to work with Agoda.com as part of our online strategy in Asia and Europe. Agoda's wide distribution and extended reach will allow us to communicate effectively to a much larger target audience and we look forward to mutually beneficial relationship."
Agoda.com's hotel reservations website features comprehensive hotel descriptions and photos, listed in 21 different languages, all supported by a multilingual, customer service team available 24 hours/day, 365 days/year. The easy to use website provides100% instant confirmation at all hotels listed, now with more last-minute inventory than ever before.
For more information regarding Agoda, please access its website at http://www.agoda.com or contact the Agoda team via e-mail at info(at)agoda.com.
Note to Editors
About Agoda Company Pte Ltd :
Agoda Company Pte Ltd (http://www.agoda.com) is a leading, Asia-based, online hotel reservations company, which specializes in securing the lowest discount hotel prices in Asia. Agoda.com is part of Priceline.com (Nasdaq:PCLN). Agoda's network includes over 9,000 hotels in Asia-Pacific and more than 90,000 worldwide. The multinational staff of 325 professionals, located throughout Asia, provides a first-rate reservation service that uniquely combines local knowledge and local connections to provide the best hotel deals to both business and leisure travelers.
In addition, Agoda customers participate in the Agoda Rewards Program, earning further discounts and free stays. Unlike programs that limit travelers to a single chain, the Agoda Rewards Program allows customers to redeem Rewards Points at thousands of hotels around the globe, at any time. A member of the Pacific Asia Travel Association (PATA), Agoda's aim is to promote travel by making it more affordable and more accessible to more people.
About Frasers Hospitality Pte Ltd
Frasers Hospitality Pte Ltd, the hospitality arm of Frasers Centrepoint Limited, a wholly-owned subsidiary of Fraser and Neave, Limited, is a global serviced residence owner and management company with Gold-Standard residences across Europe, North Asia, Southeast Asia, Middle East and Australia.
Frasers Hospitality Pte Ltd commits to "meeting the unique needs of the executive travellers through continuous innovation", and providing its customers with the space, family and community away from home. Conceived with the lifestyle preferences of today's discerning extended stay executive travellers in mind, Frasers Hospitality Pte Ltd has four brand offerings - Fraser Suites, Fraser Place, Fraser Residence and Fraser Resorts. A second brand, Modena, which targets the professional who spends the majority of his or her time travelling, was established under the Frasers Hospitality umbrella in July 2009. For more information on Frasers Hospitality, please visit http://www.frasershospitality.com.
###