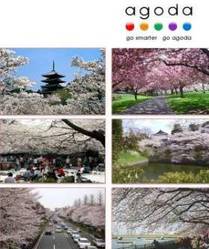 Bangkok, Thailand (PRWEB) March 4, 2009
It's time to go blooming-crazy as "Hanami", Japan's cherry blossom viewing season, draws near. A huge event throughout Japan, the festival celebrates the blooming of cherry trees at around the end of March and generally lasts until early April. Tokyo, Kyoto and Osaka are the most popular cities to witness this spectacular natural event and to ensure everyone gets a chance to view the delicate pink and white blossoms. Agoda.com, an online hotel booking company, has secured some fantastic hotel deals throughout Japan.
Cherry blossoms, also known as Sakura, bloom simultaneously in the spring for one week. Recognized as Japan's unofficial national flower, Sakura have frequently been used to establish diplomatic ties between Japan and other countries. The flowers reach full bloom and flutter to the ground gracefully during their final stage. The Japanese believe that these blossoms symbolize human life, transience and nobility. The blossoms begin in the southernmost island of Japan, Okinawa, in January and reach Tokyo, Kyoto and Osaka in late March. These three cities are among the top 100 best Sakura spots selected by the Japan Cherry Blossom Association.
Mr. Toshiaki Banshoya, Director of Distribution Marketing, New Otani Hotels, commented, "This year, the cherry blossoms are predicted to arrive in Tokyo a couple of days ahead of schedule. Cherry blossom viewing is extremely popular in Japan and draws large numbers of tourists from all over the world. Popular in parks and gardens, even bustling Tokyo looks serene with the white and pink cherry blossom petals along the streets. The scenery is beautiful, but it's also interesting to watch the locals take it in as they sit under the blooming cherry trees. Tourists enjoy Japanese lunchboxes while viewing traditional dance and music, and visit castles, parks, temples, or shrines. The blooming only lasts one week and so timing is critical. It is highly recommended that travelers secure accommodation early."
Tokyo's busy Ueno Park, with 1,500 cherry trees, is the best place to view Sakura. Cherry blossoms in Kyoto and Osaka tend to bloom several days later. The Arashiyama Mountain, with the Togetsukyo Wood Bridge, and Kyoto's Imperial Palace provide beautifully picturesque scenes. Four thousand Sakura trees around Osaka Castle are illuminated at night for one week at the end of March and beginning of April, while Osaka Expo Park with over 5,500 cherry trees is a great place to have a picnic while viewing the cherry blossoms.
Mr. Wilfred Fan, Agoda Vice President of Business Development, said, "Japan has been a very popular destination for Agoda customers, especially during Hanami, the traditional blossom viewing party. Throughout Japan you'll find rows of cherry trees with their pink and white blossoms, creating a romantic atmosphere that soften the edges of modern city lives. Agoda wants to ensure tourists get to enjoy this amazing, natural event and we have secured special deals throughout Japan."
Agoda's best Japan hotel deals include
TOKYO
Hotel New Otani The Main, 5 Star. Rate starting at USD 236 (normally USD 408)
Grand Prince Hotel New Takanawa, 3.5 Star. Rate starting at USD 134 (normally USD 231)
Asakusa View Hotel, 3.5 Star. Rate starting at USD 123 (normally USD 214)
KYOTO
Hotel Village Kyoto, 3 Star. Rate starting at USD 222 (normally USD 385)
OSAKA
Claiton Shin Osaka Hotel, 3 Star. Rate starting at USD 62 (normally USD 107)
Swissotel Nankai Osaka Hotel, 5 Star. Rate starting at USD 179 (normally USD 310)
For more information regarding Agoda Company Pte. Ltd., please go to the website at http://www.agoda.com or contact the Agoda customer service team via telephone at +66 2 625 9100
Note to Editors
About Agoda Company:
Agoda (http://www.agoda.com) is an online hotel reservations service which specializes in securing the lowest discount hotel prices in Asia. Agoda.com is part of Priceline.com (Nasdaq:PCLN). Agoda's network includes 8,933 hotels in Asia and more than 50,000 worldwide. The staff of over 300 professionals, located throughout Asia, provides a first-rate reservation service that uniquely combines local knowledge and local connections to provide the best hotel deals to both business and leisure travelers.
In addition, Agoda customers participate in the Agoda Rewards Program, earning further discounts and free stays. Unlike programs that limit travelers to a single chain, the Agoda Rewards Program allows customers to redeem Rewards Points at thousands of hotels around the globe, at any time. A member of the Pacific Asia Travel Association (PATA), Agoda's aim is to promote travel by making it more affordable and more accessible to more people.
###