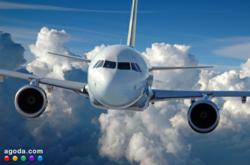 Singapore (PRWEB) June 23, 2011
Agoda.com, Asia's global hotel booking site and part of Nasdaq-listed Priceline Group (Nasdaq: PCLN), today announced a partnership with Cathay Holidays Limited, the travel agency arm of Cathay Pacific Airways through which Cathay Holidays will distribute agoda.com's hotel product.
Cathay Holidays provides inventory to CathayPacific.com and creates tailored package trips that showcase the carrier's key destination cities, including Hong Kong, Japan, Seoul, Beijing and Shanghai. Travelers booking a ticket through the CathayPacific.com website will have access to agoda.com's worldwide instantly-confirmable inventory, with a wide selection of properties on offer throughout the Asian continent and in Cathay Pacific's route hubs.
By partnering with agoda.com, Cathay Holidays will be able to provide up-to-the-minute rates and promotions in more than 100 countries. Coupled with Cathay Pacific's 65 years' of industry experience and coverage of 114 cities, travelers can enjoy great savings in the world's top destinations plus instant confirmation on hotel rooms.
Mr. Wilfred Fan, Managing Director – North Asia at agoda.com commented, "This partnership is a natural fit for both companies. agoda.com's wide footprint of global hotels overlaps with Cathay's extensive international routes and both our companies can service customers in many languages. We hope this ongoing partnership will make travelling easier and offer greater opportunities to the millions of international travelers who currently book trips through the Cathay Pacific network."
Mr. Vincent Li, Managing Director of Cathay Holidays Limited, said, "Cathay Holidays is committed to offering customers a full-service travel experience with great deals and quality service through our network both offline and online. agoda.com's global coverage, promotions and instant confirmation will help us continue to add value for our loyal customers."
About Agoda Company Pte Ltd:
Agoda Company Pte Ltd (http://www.agoda.com) is a leading Asia-based, online hotel reservations company, which specializes in securing the lowest discount hotel prices. agoda.com is part of Priceline Group (Nasdaq:PCLN). Agoda's network includes more than 140,000 hotels worldwide. The multinational staff of more than 600 professionals, located throughout the world, provides a first-rate reservation service that uniquely combines local knowledge and local connections to provide the best hotel deals to both business and leisure travelers.
About Cathay Holidays Limited:
Cathay Holidays Limited is a wholly-owned subsidiary of Cathay Pacific Airways, sharing its mission to provide "Service Straight from the Heart". As a market leader in free and independent travel, we offer a full range of exciting leisure holiday choices to more than 60 destinations in China, Asia and beyond. For more information, please visit: http://www.cxholidays.com
###