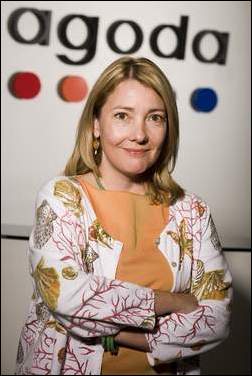 Agoda's mission is make travel more accessible to more people
Singapore (PRWEB) April 18, 2007
Online hotel merchant Agoda Company Pte. Ltd, announced today the appointment of award-winning travel journalist Cynthia Barnes as Editor-in-Chief of agoda.com and its new sister community site, travel.agoda.com.
A graduate of the University of Missouri-Columbia, Ms. Barnes' Timbuktu series for Slate was a recognized in The Best American Travel Writing 2006. Her travel and culture pieces have appeared in National Geographic, Salon, Voyaging, Continental, Global Traveler, Humanities, and other magazines, websites and newspapers.
Based in Singapore with operations in Bangkok and the Philippines, Agoda's network includes 7,000 hotels in Asia and more than 27,000 worldwide. Agoda Company has been offering hotel discounts in places like Bangkok, Singapore , Hong Kong and around Asia since 1997, and has expanded to worldwide coverage. Agoda recently launched the beta version of its Web 2.0 community site, travel.agoda.com.
"An editorial position with an e-commerce company wasn't in my plans," says Barnes. "But Agoda has a stronger commitment to travel than many advertiser-driven mainstream consumer publications. And travel.agoda.com is one of the first real Travel 2.0 sites in Asia, which makes things very exciting."
Barnes is no stranger to Web 2.0 and online communities. Having been involved with dial-up BBS (bulletin board services) and email list serves since the late 1980s, she is a long-time member of The WELL, one of the oldest virtual communities.
Barnes explains "Connecting people is what Web 2.0 is really all about. Sharing travel information in an online community is just a natural fit."
"Agoda's mission is make travel more accessible to more people," says Robert Rosenstein, Chief Operating Officer of Agoda. "One way we do this is by offering great prices for hotels around the world, particularly in Asia, and another is by offering great content including reviews, tips, and journals submitted by our staff and our customers. The appointment of Cynthia is proof of Agoda's commitment to content and to Travel 2.0 in general."
The beta version of travel.agoda.com contains a few interesting tips and stories and more than 6,000 hotel reviews submitted by travelers who have reserved rooms through Agoda. The company is now opening the community up to non-Agoda customers who will be able to contribute their own content. Foreign language versions will be launched in the coming months.
For more information regarding Agoda, please access its website at Agoda, visit the online community site travel.agoda.com or contact the Agoda Team via e-mail.
###