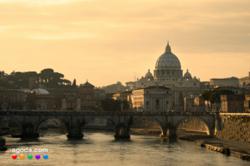 Singapore (PRWEB) May 25, 2011
Agoda.com, Asia's global hotel booking site and part of the Nasdaq-listed Priceline.com Inc. (Nasdaq: PCLN), announces a host of summer hotel deals in Rome to coincide with Estate Romana.
Now in its 34th year, Estate Romana is a citywide celebration of all things artistic, musical, and cultural. From pop and rock concerts to classical recitals, art exhibitions, and theatre performances, this summer-long spectacular encapsulates the very spirit of Italy's chic and vibrant capital.
For those who like their music live and loud, Rock in Roma is not to be missed. With more than 20 concerts scheduled from June 16 to July 29, the event will feature a wide selection of world-renowned artists, including Jamiroquai, Jack Johnson, Moby, Ben Harper, Robert Plant, and Slash from Gun n' Roses. Sting, Lou Reed, Cindy Lauper, and Ricky Martin will also headline events.
For those with a more traditional taste in music, Estate Romana 2011 has a variety of classical options. In addition to productions of La Traviata and La Boheme, the festival will include performances of Beethoven's Fifth Symphony by the Accademia Nazionale di Santa Cecilia, one of the world's oldest and most acclaimed musical institutions.
Art lovers will also be spoiled for choice as dozens of special events are planned. Among the host of shows on offer are works by Lorenzo Lotto at the Scuderie del Quirinale and the superb Portraits of Power exhibition at the Musei Capitoline. As part of a year-long promotion, anyone visiting an exhibition at a state museum on their birthday will be admitted free of charge.
Walking tours are also part of the Estate Romana schedule. The Angels & Demons tour traces the mysterious 'Path of Illumination' as featured in the Dan Brown novel. Other tours give visitors the chance to see Rome's major sights, such as the Colosseum and the Trevi Fountain, or discover hidden gems like the Oratorio del Gonfalone, known as the 'Little Sistine Chapel' for its stunning sixteenth-century frescoes.
Between exhibitions and concerts, travelers to Rome in the summertime can indulge in some luxury shopping. Late July to September marks the city's summer clearance sales when top Italian brands such as Prada, Dolce & Gabbana, and Gucci significantly drop their prices.
Agoda.com is also offering discounts for Estate Romana 2011, with a selection of hotel promotions available for the duration of the festival. Travelers booking a hotel through Agoda.com will earn Rewards points that can be saved up to reduce the cost of future bookings.
Agoda.com Estate Romana 2011 Rome Hotel Promotions
Boscolo Exedra Luxury – 5 stars
LUXURY DEAL! Rates from USD 256 per night. Minimum stay 2 nights – must be booked at least 3 days in advance. Enjoy 20% discount.
Hotel Bolivar – 4 stars
Book a standard room from USD 96 per night. Enjoy 12% discount.
Best Western President – 4 stars
Double or twin rooms from USD 192 per night. Book at least 28 days in advance to enjoy 10% discount.
Hotel Victoria Roma – 4 stars
Standard double rooms from USD 233 per night. Book at least 28 days in advance to enjoy 10% discount.
The Duke Hotel – 4 stars
Pay 3 nights, stay 4 nights. Junior Suite, Suite and Double Deluxe rooms from USD 188 per night.
Hotel Gravina San Pietro – 4 stars
Room rates from USD 145 per night. Enjoy 20% discount.
Hotel Derby – 3 stars
GREAT RATE! Room rates from USD 73 per night. Enjoy 10% discount.
Hotel Saint John – 4 stars
Book 15 days in advance and enjoy 15% discount. Rates from USD 142 per night.
Domus Mariae Palazzo Carpegna – 4 stars
Rates from USD 132 per night. Enjoy 15% discount.
Grand Hotel Fleming – 4 stars
Rates from USD 121 per night. Enjoy 15% discount.
About Agoda Company Pte Ltd:
Agoda Company Pte Ltd (http://www.agoda.com) is a leading Asia-based, online hotel reservations company, which specializes in securing the lowest discount hotel prices. Agoda.com is part of Priceline.com (Nasdaq:PCLN). Agoda's network includes more than 130,000 hotels worldwide. The multinational staff of more than 600 professionals, located throughout the world, provides a first-rate reservation service that uniquely combines local knowledge and local connections to provide the best hotel deals to both business and leisure travelers.
In addition, Agoda customers participate in the Agoda Rewards Program, earning further discounts and free stays. Unlike programs that limit travelers to a single chain, the Agoda Rewards Program allows customers to redeem Rewards Points at thousands of hotels around the globe, at any time. A member of the Pacific Asia Travel Association (PATA), Agoda's aim is to promote travel by making it more affordable and more accessible to more people.
# # #