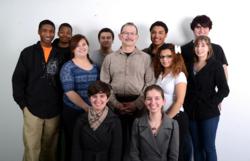 By working directly with these groups, we bring them the greatest return.
Warwick, RI (PRWEB) April 01, 2013
In 2012, Advanced Chemical Company launched a charitable division of the company in support of successful fundraising initiatives. By eliminating the middle man, and working directly with organizations, A Golden Gift will be able to pay the highest value as quickly as possible. A Golden Gift has partnered with RiverzEdge Arts in Woonsocket, Rhode Island. RiverzEdge provides talented under-served teens hands-on work experience in art and design, and pathways to high school credit through work site apprenticeships.
"We are really proud that Advanced Chemical chose RiverzEdge because of Lou Smith's belief in our work," said Rebekah Greenwald Speck, Executive Director of RiverzEdge. "Lou [Advanced Chemical's Research & Development and Product Manager] has been an important member of our community since 2010, when he first discovered our innovative approach to blended artistic and workforce development. We have learned to be smarter and savvier social entrepreneurs from Advanced Chemical too, so it's a win for all involved."
"I became involved with RiverzEdge because I found it to be an operation that supplies opportunities and guidance for young city kids that might not have some of the advantages that may be inherent in more affluent communities," said Lou Smith of his multi-year relationship with RiverzEdge.
"Lou's commitment to RiverzEdge made this an easy partnership," commented John Antonacci, Director at Advanced Chemical. "Our employees all have causes that are dear to them. A Golden Gift is a way we can help all of them. We wanted to maximize the amount of money an organization could receive because we understand the struggles they face, so by
working directly with these groups, we bring them the greatest return."
In addition to swift turnaround times, and highest industry payouts, Advanced Chemical Company donates a portion of their return to each non-profit partner. "We're in this together and this is the best way to show our support," said Jerry Smith, President of Advanced Chemical Company.
By running small social enterprises, teens learn graphic design, digital media, screen-printing, environmental product design and visual arts. In work sites and centers of higher learning, teens get credit for working with industry mentors to complete independent learning projects in STEM (science, technology, engineering and mathematics) and other subjects. Read more about this program at http://riverzedgearts.org/
Advanced Chemical Company is a third generation, family owned and operated, full-service precious metals refinery, e-scrap recycler and manufacturer of precious metal electroplating and other specialty chemistries. A Golden Gift is a wholly owned, philanthropic division of Advanced Chemical Company.