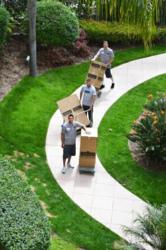 Agoura Hills, CA (PRWEB) September 20, 2012
Acclaimed Agoura Hills Moving Company recently added a tenth truck to its impressive fleet, continuing their massive expansion throughout the Agoura Hills area. In the pursuit of being Agoura Hills' premier, luxury, full-service moving company, Acclaimed is working tirelessly to maintain their progressive growth. With their newest truck, Acclaimed is now more than capable of handling all 8.2 miles and 20,000 people who live in "the gateway to the Santa Monica Mountains." Years of experience moving in Agoura Hills, and an "A" rating from the Better Business Bureau, indicates that Acclaimed Agoura Hills Movers and Storage is an excellent option if you're transitioning to, or from, the area.
Acclaimed is a comprehensive moving company, handling residential, commercial, local, national, and international relocations. There's literally no move they can't tackle, and they handle all moves on an individual basis. Their Moving Consultants guide the client step-by-step through their transition, guaranteeing an effortless process. Each of their relocation specialists has been meticulously trained in how to properly wrap, pack, and move any type of item. Acclaimed also uses top-of-the-line trucks and industry protection standards setting packing materials. Cars, boats, pianos, no object is too large or too small for these professional movers. If you need storage, Acclaimed offers an enormous, climate controlled, secure storage facility. 24 Hours surveillance and a temperature control system that prevents rust, fading, and wear to belongings, ensure that with Acclaimed your effects are in good hands.
Acclaimed Agoura Hills Movers and Storage continues to define professionalism and reliability in the moving industry. With each relocation Acclaimed further refines their craft and develops lasting relationships with the people they help. Their goal is to provide an easy, and enjoyable transition, every time. If you're looking to make a move give Acclaimed a call today for a free no-obligation quote.
Webiste: Acclaimed Agoura Hills Movers
Phone: (888) 668-3703
Email: sales(at)acclaimedmovers(dot)com