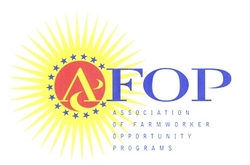 The inequity in the FLSA is disturbing, but we commend the Secretary of Labor for taking this step forward to discourage the exploitation of child laborers in the U.S
Washington, D.C. (Vocus) June 18, 2010
The Association of Farmworker Opportunity Programs (AFOP) commended the U.S. Department of Labor's announcement yesterday to raise the penalties for employers who illegally employ children.
''Protecting our youngest workers is one of this department's top priorities. Beginning today, employers who hire children too young to work will face stiffer penalties,'' said Secretary of Labor Hilda L. Solis. ''Work is not child's play. When children do work, that work must be age appropriate, safe and positive, and, it must not interfere with their schooling.''
While the new increase is focused on toughening the fines for violations in all areas of labor, it will also raise the penalty for agricultural employers found in violation of the laws specific to their industry to a minimum of $8,000. The Fair Labor Standards Act (FLSA) of 1938 is the law used to regulate child labor in the U.S. The FLSA establishes a minimum age of 16 for all non-agricultural industries, but an exemption in the law allows children to legally perform farm work at the age of 12 for an unlimited number of hours outside of school. Children performing agricultural work deemed to be particularly hazardous can also be as young as 16, while hazardous work in every other industries is strictly reserved for adults.
"The inequity in the FLSA is disturbing, but we commend the Secretary of Labor for taking this step forward to discourage the exploitation of child laborers in the U.S," said David Strauss, Executive Director of the AFOP. "More steps need to be taken by all branches of our government to ensure that all children in every industry are protected equally."
Currently, legislation has been introduced by Congresswoman Lucille Roybal-Allard to end the discrepancy in the FLSA. The Children's Act for Responsible Employment (CARE Act: H.R. 3564), is aimed at equalizing the child labor laws to ensure all children are protected, and would require safer working environments for those adolescents employed.
The Association of Farmworker Opportunity Programs is the national federation of nonprofit and public agencies that provide training and employment services to migrant and seasonal farmworkers. For additional comment or interview, please contact Ayrianne Parks at (202) 828-6006 x140 or Parks(at)AFOP(dot)org.
###