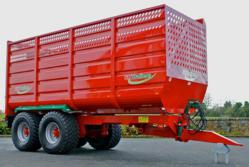 The SK Grassline's super strong chassis and body is designed specifically for agri contractors performing silage, whole crop, and maize operations.
(PRWEB) January 17, 2013
SlurryKat's sister company, SK Agri Trailers has announced the release of the SK Grassline trailer, one of the lightest and most stable silage trailer range on the market today that maintains the strength of its heavier competitors.
Exclusively design & built for 2013, the SK Grassline range is designed and tested to withstand the harshest Irish agri contracting conditions, with its strengthening ribs along the side panels and another unique body panel configuration from the company. The SK Grassline's single, vertical tipping cylinder gives this exquisite trailer range faster raising and lowering, and accommodates a fast and efficient offloading cycle. These effective key features have been carried across from the company's Premium Monique Trailer range.
Built for safety and performance, the SK Grassline's super strong chassis and body is designed specifically for agri contractors performing silage, whole crop, and maize operations. It's lighter weight translates to an increased capacity payload, and makes the SK Grassline up to 30 % lighter and more fuel efficient than competitor trailers.
Additional features include:

High visibility filling side and front panels;
Commercial spec 10 stud running gear;
Steering axle options;
Hydraulic and air brakes options;
LED lighting.
SK Trailers, a division of SlurryKat, the multi-award winning slurry-handling specialist based in Waringstown, Northern Ireland has confirmed its expanding distribution plans for its agri equipment to meet N. Ireland, ROI, Europe & worldwide demand.
Its success across both sides of the Irish border and throughout the UK has drawn the attention of additional markets in the U.S., Canada, and across Europe, causing SK Trailers & SlurryKat's Chief Executive and Principal Engineer Garth Cairns to launch distribution initiatives on a global scale in 2013.
SlurryKat & SK Trailers are proactively seeking dealerships throughout the U.S.A, Canada & Europe to assist in the distribution of high quality slurry-handling & farming equipment.
With its headquarters and main factory in Waringstown, Northern Ireland the SlurryKat Group also has offices in Dublin and Bristol, UK. The company is quickly expanding worldwide to fulfill growing customer demand in the US, Canada, Australia, New Zealand and throughout Europe. For more information, visit the Slurry Kat websit, Email sales(at)slurrykat(dot)com, or call 028 3882 0862 (or 0044 28 3882 0862 for international callers).
About SlurryKat:
The SlurryKat group specializes in unique slurry-handling umbilical equipment, slurry tankers which uses a high-pressure pump unit to drive the liquid from the tank via a pipeline attached to a tractor-mounted applicator unit. The system's applicator unit is driven in straight lines, dragging the supply pipe (known as the Drag Hose) up and down the spreading field for uniform distribution. The Group's trailer division, custom designs and builds a line of trailers with many features unseen in the agri market. Originally, they were largely made for limited internal use, but over the last 18 months, they been made available for general sale.
SlurryKat has won numerous awards for its innovation and design, most recently "Company of the Year, 2011" presented by the Association of Charted Accountants, Ireland. The company's growing reputation for excellence has earned SlurryKat recognition as a serious contender in the world-class market, already supplying its unique agricultural slurry handling equipment to more than 17 countries.
The SlurryKat equipment catalogue includes a full range of slurry equipment, including: dribble bars, tankers, trailers [SK trailers] pumping systems, reelers, flowmetering systems, parts and accessories.
###