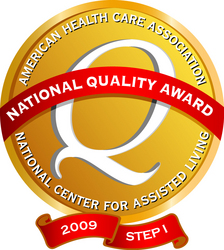 Through the hard work and perseverance of the great team here at Life Care Center of Tucson, we were able to achieve this notable award
Tucson, Ariz. (Vocus) October 12, 2009
Life Care Center of Tucson , a skilled nursing and rehab facility, was recently awarded the Step 1 Quality Award by the American Health Care Association and National Center for Assisted Living.
The Step 1 Quality Award is given to organizations that have demonstrated a commitment to a person-centered mission, defined their principal customers and their expectations and indicated how they are striving to meet their customers' needs. It is the first of three steps of recognition by the AHCA and NCAL and requires a detailed application process submitted to a board of examiners for review.
"Through the hard work and perseverance of the great team here at Life Care Center of Tucson, we were able to achieve this notable award," said Sheila Weeks, executive director. "We humbly accept this award and continue to strive to meet the needs of our residents through the servant leadership of our associates."
The facility's achievement was formally recognized along with the other Quality Award winners at the AHCA/NCAL Annual Convention Oct. 4 - 7 in Chicago.
The AHCA/NCAL Quality Award was created in 1996 and is modeled after criteria from the Malcolm Baldrige National Quality Award, the nation's premier recognition for quality achievement. The AHCA/NCAL award recognizes commitment to a continuous quality improvement process at nursing facilities, assisted living residences and residences for persons with mental retardation or developmental disabilities.
Located at 6211 N. La Cholla Blvd., Life Care Center of Tucson is one of 18 facilities in Arizona operated by Life Care Centers of America.
Founded in 1976, Life Care is a nationwide health care company. With headquarters in Cleveland, Tenn., Life Care operates more than 220 nursing, subacute and Alzheimer's centers in 28 states. For more information about Life Care, please visit http://www.lcca.com.
CONTACT:
Sheila Weeks
Executive Director
(520) 575-0900
# # #