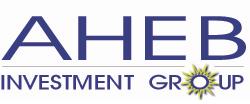 Amongst the many advantages presented by working with our new investor provider partner is their ability to help us provide more flexibility with financing solutions and faster performance.
Manchester, England (PRWEB) August 23, 2011
AHEB Investment Group, the financial consultant specialist firm, has a successful track record helping businesses with their financing needs, in particular start up businesses, or those requiring investment to fund growth and development, or large joint ventures or projects which involve complex financing solutions due to major investment and capital requirements. These normally require more difficult lending set ups such as multiple collateral agreements and security for the loans before they are approved, and this is the area which AHEB has a wealth of experience and success in.
In an effort to extend and further develop the support services it provides to clients, AHEB Investment Group has signed a new partner agreement enabling the company to launch additional services including further provision of collateral, asset funding and other specialist services. The new services are available immediately and already being taken up by AHEB's existing clients.
AHEB Investment Group's Managing Director, Mr Andreas Charalambous, explains that the value of these additional services for businesses should not be underestimated, particular in the current harsh lending climate.
"One of the main reasons why starts ups and businesses fail is lack of financial planning and budgeting," says Mr Charalambous. "During the delicate stages of growth and development, a company needs to have cashflow available for investment into the right infrastructure, people and assets which will ultimately help the company progress. Financing and asset funding through a pool of interested professional investors, in the way AHEB provides, is a great way for businesses to purchase but leave cashflow unaffected. Businesses can then focus on recruiting new clients and using capital to add value to key areas of profit generation within the business."
In particular the importance of these types of support services for financing has never been clearer than in recent years, where banks and financial institutions have been demanding stronger collateral portfolios in line with stricter lending criteria. For many businesses previously unable to meet requirements for successful loan applications, these types of solutions available from AHEB such as asset financing, credit enhancements and structured finance can provide much needed backing and solutions in difficult times.
"Amongst the many advantages presented by working with our new investor provider partner for these services is their ability to help us provide more flexibility with financing solutions and faster performance" adds Mr Charalambous. "With this development, we extend the AHEB Investment Group family with a key player in the market, allowing us to grow our network of investors, lenders and collateral providers, and ultimately to provide improved services to our clients."
As well as providing assistance on the financial consulting side, AHEB Investment Group recently launched several business planning services designed to assist businesses and start ups during the crucial early stages. During this phase, an outside perspective from experienced consultants is always recommended, to identify challenges, insights, opportunities and ensure that the strategic plan for the business is built on solid foundations. In particular they are also able to help with the financial planning process of financing, budgeting and cashflow, ensuring that at the point where financing is requested, every eventuality and possible scenario has been carefully evaluated and the best strategic direction chosen.
For this reason, many businesses apply to AHEB for assistance, taking advantage of their expertise and specialist services, which results in them not only being prepared with a sound business strategy, but also most of the time can result in a successful financing application.
About AHEB Investment Group
AHEB Investment Group was founded in 2008 aiming to provide professional support and consulting regarding financing to businesses of large and medium size but also start up enterprises. AHEB specializes in assisting the development of large commercial and industrial projects by offering financing solutions and advisory support. Successful projects include real estate developments, construction including large hotels, energy based projects covering power plants and oil rigs with other major purchases of ships and aircraft. AHEB's relationships with principal global and regional banking institutions assist businesses in arrangement of collateral via its network of investment partners. For further information about AHEB Investment Group, visit http://www.ahebgroup.com, email info(at)ahebgroup(dot)com or call + 001 347 4166069.
###