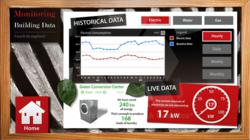 (PRWEB) November 26, 2012
QA Graphics, leading provider of design services for the building automation industry, is pleased to announce that they will exhibit at the 2013 AHR Expo.
The AHR Expo, held January 28-30 at Dallas Convention Center, is expected to draw over 30,000 HVAC&R professionals to see the latest products and systems, building automation and controls, software and services, and more. QA Graphics has grown to be the industry leader, having provided system graphic development and other design services for the building automation industry for over a decade now. At their booth, QA Graphics will showcase a variety of projects completed for healthcare facilities, commercial buildings, the educational sector, and government organizations at their booth, #860.
BAS Design Services:

BAS graphics
Navigational graphics
Floorplan graphics
Interactive and Marketing Services:

Energy Efficiency Education Dashboards
Mobile applications
Interactive applications
Sales tools
3D design & animation
Custom solutions
QA Graphics provides graphic services for all building automation systems including Alerton, Andover, Computrols, KMC Controls, Reliable Controls, Siemens Building Technologies, Tridium, Schneider Electric, American Auto Matrix, Honeywell, Delta Controls, Distech Controls, Johnson Controls, Inc. and Trane. They continue to push the boundaries within the industry, driving higher expectations of graphic standards. This past year, QA Graphics partnered with Tridium to develop a custom graphic library exclusively for Tridium's latest update to its core software, NiagaraAX Framework® 3.7. QA Graphics was also responsible for providing 3D image creation and super templates for Johnson Controls Inc.'s new Metasys® Graphics+ graphics package.
Businesses of all sizes look to QA Graphics for a number of reasons: to provide their customers with more realistic graphics and gain a competitive edge, to save time, to take the load off of their staff, etc. By sourcing their graphics needs to QA Graphics, businesses can access high-end graphics that follow a consistent set of standards, without having to train or hire additional staff.
QA Graphics also helps provide marketing materials and sample graphics to help customers upsell their clients when discussing graphic needs. In addition, QA Graphics partners with companies to provide a variety of graphic services, including serving as their primary resource for graphic domestic sourcing, providing marketing services, and also developing custom educational dashboard solutions which companies can market as their own product.
As graphic expectations continue to change, businesses are looking to QA Graphics for more than BAS graphics and educational dashboards. QA Graphics serves as a full-service design firm, providing creative marketing and sales solutions. In fact, a number of companies exhibiting at AHR will be using marketing assets created by QA Graphics at their booths.
About QA Graphics
QA Graphics is a leader in the building automation and green building industries, providing HVAC graphic development services, system graphics, floor plan graphics, and energy dashboards to help organizations educate occupants about building performance and sustainability. The company also specializes in interactive applications, 3D design and animation, mobile app development and other multimedia. Visit http://www.qagraphics.com to learn more.