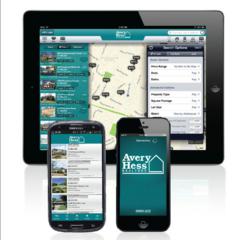 Washington DC (PRWEB) April 04, 2013
Avery-Hess, Realtors, an independent real estate brokerage based in the Washington, DC Metro area, has announced the release of their Real Estate home search App that utilizes GPS-based Multiple Listing Service (MLS) search technology to allow consumers and Agents to search the MLS in real time, giving them the most up-to-date and accurate data available.
Through a partnership with MRIS, the Mid-Atlantic Multiple Listing Service (MLS), Avery-Hess Realtors is the first brokerage to offer this innovative technology paired with professional features and individual company branded MRIS App options to its Agents.
"Consumer home search is rapidly moving to a mobile environment," explains Kristin Maynard, Director of Marketing for Avery-Hess Realtors. "Through our partnership with MRIS, our App meets this need and alleviates the primary consumer complaint of stale data in results. We are able to provide the freshest data possible in real time to our consumers -- ensuring the best experience possible."
Users can search by city, state, zip or GPS search to find nearby properties, get listing details and pictures and contact Avery-Hess for more information without ever leaving the App. Property details and search results are updated directly from the MRIS database every 10 minutes.
"Consumers need a trusted source for real time, accurate real estate information right at their fingertips," said Andrew M. Strauch, MRIS Director of Product Innovation, Marketing and Education. "We are very excited to partner with Avery-Hess to provide home buyers with ALL the latest real estate listings straight from the source."
The Avery-Hess App is the first brokerage App to include pro features that give Agents the ability to securely login to MRIS and view agent only information from their mobile device, eliminating the need for a computer.
The App is available on iPhone, Android and Blackberry and iPad platforms. To download the Avery-Hess smartphone App text "AVERY" to 87778 or visit http://app.averyhess.com. The iPad App can be downloaded from the Apple App Store.
About Avery-Hess, Realtors:
Avery-Hess, Realtors is an independent real estate brokerage that operates seven offices and has served the Maryland, Virginia, Metro DC and West Virginia areas for over 20 years. They are an affiliate of Leading Real Estate Companies of the World – a global real estate network consisting of the finest real estate brands, providing uncompromised marketing clout. They are devoted to providing consumers with the best technology, decision support and agents in their respective markets since 1992. Avery-Hess Realtors real estate website, [http://www.averyhess.com features an enhanced version of their trademarked MyLife Home Search™ platform, Metro and VRE Searches, Walk Score, Yelp Reviews, Market Statistics and more to help provide the the most comprehensive search possible.
ABOUT MRIS:
Metropolitan Regional Information Systems, Inc. (MRIS) celebrates 20 years of Real Estate in Real Time™. We're a leading provider of real estate information technology and services, and are frequently ranked among the most productive Multiple Listing Services (MLS) in the nation. In its core market, MRIS supports over 43,000 real estate professionals spanning the Mid-Atlantic region. Visit MRIS at MRIS.com.