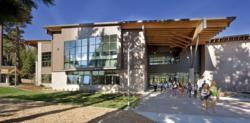 Discussion regarding design and the value of design to our community, and clients, is healthy for our region ... it's important that we support and celebrate good design.
Irvine, CA (PRWEB) October 31, 2011
Since 1967, the American Institute of Architects in Orange County (AIAOC) has recognized the best of the region's architectural design through their annual awards program. In order to receive an award, a project must be located in Orange County or designed by an Orange County-based firm. This year, 15 honors were given to 5 different firms and LPA Inc., one of the largest architecture, engineering, interior design, and landscape architecture firms in California, kept its 35-year running streak by taking home honors in each of the five categories – Honor , Merit, Citation, Committee on the Environment (COTE), and Savings by Design.
Named one of the Top Five Green Design Firms in Education, earlier this year by industry magnate Engineering News-Record, it's fitting that LPA receives recognition for its educational buildings (i.e.K-12 school facilities, Community College and University architecture).
The Green Career Technical Education (CTE) Academy and the Stadium View Classroom building at South Tahoe High School, together, received an Honor Award for their an innovative approach to school design. Judges liked how the designs mixed well with the Lake Tahoe site and climate. "The buildings are well detailed with nice, high open space, wood beams, and clerestory lighting," said one juror. "The architecture addresses extreme winter and snow issues, and helps facilitate snow melt." LPA's Wendy Rogers is the Principal Designer of this project.
The Multidisciplinary Building at Palomar College also received an Honor Award. "This building has an interesting, triangular form anchored by a round center in a central courtyard," describes a juror. "The high, glass walls are comprised of low-emissivity (low-e) glass and facilitate natural light to all faculty offices. The building has a sleek, technological exterior look [with] comfort and human scale at its center." Jurors liked the building's clean, contemporary exterior lines and interesting juxtaposition of geometry within its interior courtyard. "These components make this a surprising and fun design," they finish. LPA's Glenn Carels is the Principal Designer of this project.
The Science Building at Santiago Canyon College received both a Merit Award and a Savings by Design award, the latter from Southern California Edison. Jurors noticed the building's ample sustainable design features including a high amount of recycled content, low-e glazing with vertical shading fins, and energy efficient lighting and cooling systems. "[The building] is well-known for its sloped metal roof, which provides ample daylight shading and a signature form," said one juror. "The exterior design is comprised of interesting angular geometric forms that provide shading while also allowing plenty of daylighting." LPA's Glenn Carels is the Principal Designer of this project.
The Recreation and Wellness Center at California State University East Bay received both a Citation Award and an award from the AIA Committee on the Environment (COTE). The COTE award use the National AIA COTE Measures of Sustainable Design – which measure a project's intent and innovation, community, site, bioclimatic design, light and air, water, energy materials, long life and feedback. Jurors especially liked this project's ventilated trombe wall. "There is ample natural ventilation and light, as evidenced in the two-story lobby, as well as interior areas using Solatubes skylights," explains a juror. "The red, perforated metal shading elements provide a punch of color and flash to the exterior elevation."
For more information about the AIAOC Awards, contact the chapter office at (949) 675-8273 or visit AIAOCawards.org. Full List of Award Recipients
About AIAOC Awards for Architecture
The AIAOC Awards for Architecture review projects that have been completed within the past eight years. Entries are welcome from both established and new practitioners and designers and from large and small firms. New buildings and renovations/restorations are eligible.
About LPA Inc.
Founded in 1965, LPA has more than 230 employees with offices in Irvine, Roseville, and San Diego, Calif. The firm provides services in architecture, sustainability, planning, interior design, landscape architecture, engineering, and graphics. At 78%, they have the highest percentage of LEED accredited staff in the nation. With extensive experience in public and private architecture, LPA designs a diversity of facilities that span from K-12 schools, colleges and universities, to corporate and civic establishments. More than 400 major design awards attest to LPA's commitment to design excellence.
###