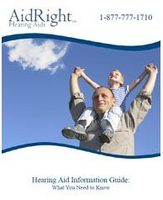 Our new and improved guide hearing aid information guide provides more information about hearing aids than anything else we know of that's available today
Atlanta, GA (PRWEB) July 28, 2009
Consumers looking to save hundreds of dollars on new digital hearing aids need look no further. AidRight Hearing Aids announces the release of their updated Hearing Aid Information Guide. AidRight utilizes a nationwide network of more than 1,200 professionals and offers discounts on a wide variety of hearing devices.
"Our new and improved guide hearing aid information guide provides more information about hearing aids than anything else we know of that's available today," said Dr. Kelly C. Calkins, a Doctor of Audiology and the director of provider relations for AidRight.
The guide, which is available for download at http://www.AidRight.com, also includes a hearing aid comparison chart. Using the chart, consumers may access valuable pricing information before they begin to shop. The informational guide is being offered at no cost and includes an updated list of new, technologically advanced hearing aids.
"We continue to expand the list of the hearing aids we offer, and more importantly, we continually provide significant savings to all of our patients," Dr. Calkins said.
AidRight's network of hearing aid health care providers includes highly trained doctors and audiologists. With AidRight's help, patients are able to save money on hearing aids from such companies as Siemens, Unitron, Oticon, GN ReSound, MicroTech, Rexton, Starkey, Widex, Sonic Innovations and Phonak. Currently debuting hearing aids include the Starkey S Series, Phonak Audeo YES, Siemens pure 700, Sonic Innovations Touch and Widex Mind 440.
A family-owned and operated company, AidRight offers its website as a source of hearing aid advice and information and help in saving money on new hearing aids.
###