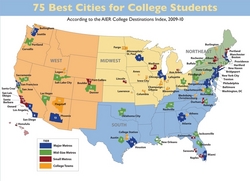 AIER American Institute for Economic Research.
Great Barrington, MA (Vocus) September 9, 2009
Choosing the right college or university should involve more than just cost, academics and sports programs. The institution's location also should be an important part of the equation, says the American Institute for Economic Research (AIER), because just like the colleges themselves, the towns and cities in which they are located vary widely in the opportunities they offer students and recent graduates.
AIER analyzes these differences in its just-released 2009-2010 College Destinations Index, which identifies the 75 best places in America to attend college.
An independent research organization based in Great Barrington, Mass., AIER got its start 76 years ago on the campus of MIT.
For purposes of comparison, AIER organized America's more than 360 metropolitan statistical areas into four population categories: major metropolitan areas (with populations of 2.5 million or more), mid-size metro areas (1 to 2.5 million residents), small cities (250,000 to 1 million residents) and college towns (under 250,000).
"To determine the rankings, each city was then assessed on the academic environment it provides, the quality of life it offers and the professional opportunities available to residents," said Kerry Lynch, AIER Senior Economist.
The 75 cities earning the highest ratings are charted here and also listed below:
Major Metros:
1) New York City; 2) San Francisco; 3) Boston; 4) Washington, DC; 5) Seattle; 6) Los Angeles; 7) Baltimore; 8) San Diego; 9) Minneapolis-St. Paul; 10) Miami; 11) Philadelphia; 12) Chicago; 13) Phoenix; 14) Houston; 15) Atlanta
Mid-size Metros:
1) San Jose, CA; 2) Austin, TX; 3) Hartford, CT; 4) Raleigh, NC; 5) Denver, CO; 6) Salt Lake City, UT; 7) Pittsburgh, PA; 8) Orlando, FL; 9) Portland, OR; 10) Sacramento, CA; 11) New Orleans, LA; 12) Richmond, VA; 13) Buffalo, NY; 14) Nashville, TN; 15) Providence, RI; 16) Rochester, NY; 17) Jacksonville, FL; 18) Columbus, OH; 19) Oklahoma City, OK; 20) Las Vegas, NV
Small Metros:
1) Boulder, CO; 2) Bridgeport, CT; 3) Ann Arbor, MI; 4) Gainesville, FL; 5) Madison, WI; 6) Durham, NC; 7) Trenton-Ewing, NJ; 8) Honolulu, HI; 9) Ft. Collins, CO; 10) Santa Barbara, CA; 11) Santa Cruz, CA; 12) Lincoln, NE; 13) Naples, FL; 14) San Luis Obispo, CA; 15) Albany, NY; 16) Manchester, NH; 17) Portland, ME; 18) New Haven, CT; 19) Oxnard, CA; 20) Sarasota, FL
CollegeTowns:
1) Ithaca, NY; 2) State College, PA; 3) Ames, IA; 4) Champaign-Urbana, IL; 5) Iowa City, IA; 6) Charlottesville, VA; 7) Corvallis, OR; 8) Bloomington, IN; 10) Columbia, MO; 10) College Station, TX; 11) Burlington, VT; 12) Athens, GA; 13) Logan, UT; 14) Lawrence, KS; 15) Fargo, ND; 16) Flagstaff, AZ; 17) Blacksburg, VA; 18) Lafayette, IN; 19) Morgantown, WV; 20) Bellingham, WA
Twelve criteria were used to rank the cities on academic environment, quality of life and professional opportunities:
Academic environment:

Student Concentration (number of college students per 1,000 residents)
Student Diversity (percentage of all students holding foreign passports)
Research Capacity (academic R&D expenditures per 100,000 residents)
Degree Attainment (percent of the 25-34 year old population with college degrees)
Quality of life:
Cost of Living (based upon average rent for a two-bedroom apartment)
Arts and Leisure (number of cultural and entertainment venues, such as concert halls, museums, parks, biking trails and other recreational facilities per 100,000 residents)
City Accessibility (percentage of workers over age 16 who commute by public transportation)
Creative Class (percentage of residents working in design, education, arts, music and entertainment)
Professional opportunities:
Earning potential (income per capita)
Entrepreneurial activity (net annual increase in total number of business establishments per 100,000 residents)
Brain Gain or Drain (yearly increase in college-educated people moving into or out of the city)
Unemployment rate
"The College Destinations Index isn't just for students and their parents," says Keming Liang, CDI Lead Researcher and AIER Research Associate. "College administrators can use it to promote their schools, civic planners to tout the desirability of their community, and business leaders to plan their next move. Indeed, the amenities that create great college communities also make these destinations great places to visit, live and even retire."
AIER became publisher of the College Destinations Index in 2008, taking over from Collegia, a regional planning organization in Wellesley, Mass., which had published the index since 2003.
Print copies of the Index are available for $2.00 each and PDF copies are available for free download from AIER's online bookstore or by calling (888) 528-1216. Copies are available to journalists at no cost by contacting Jennifer Berkowitz at Jennifer (at) PRoactiveSolutionsInc.net or (828) 687-2633.
The American Institute for Economic Research (AIER), headquartered in Great Barrington, Mass., is a 76-year-old nonprofit educational organization.
Follow AIER on Twitter @AIER1933 or join our Facebook Group "AIER American Institute for Economic Research."
Print Contact: Jennifer Berkowitz (828) 687-2633 or Jennifer (at) PRoactiveSolutionsInc.net
Broadcast Contact: Sonia Blumstein (205) 620-2087 or Sonia (at) PRoactiveSolutionsInc.net
###