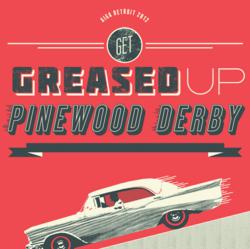 Detroit, Michigan (PRWEB) September 08, 2011
AIGA Detroit will be celebrating cars and their design and the need for speed with our event, Greased Up Pinewood Derby. The Derby will feature custom-designed pinewood derby cars created by our guests who can choose to donate them to the auction, or race them on our derby tracks for fame and glory!
Join us for the first in a series of workshops designed to help participants prepare their cars for AIGA Detroit's Greased Up Pinewood Derby to be held this January. This workshop will focus on tips and how-tos so you can transform your block of wood into a speed racer or a magnificent show car. Experts will be on hand to lend advice or bounce ideas off of. Come meet fellow racers and start working on your wheels at Omnicorps in Detroit's Eastern Market. Some hand tools and supplies will be available (pens, pencils, draft paper, sand paper) but feel free to bring anything else you might need to help in the drafting of your vehicle.
Omnicorps Detroit
1501 East Division in Detroit's Eastern Market.
Plenty of free parking out front.
$15 for Non-AIGA member
$10 for AIGA members
Please RSVP here on Eventbrite if you plan to attend the workshop to ensure we have enough kits available. Admission will be collected at the door.
*the workshop price includes a full Derby kit which contains a block of wood, axels and wheels.
ABOUT AIGA:
AIGA's mission is to advance design as a professional craft, strategic tool and vital cultural force. AIGA is the place design professionals turn to first to exchange ideas and information, to participate in critical analysis and to research and advance education and ethical practice. AIGA sets the national agenda for the role of design in its economic, social, political, cultural and creative contexts. It is the oldest and largest membership association for professionals engaged in the discipline, practice and culture of design. Founded as the American Institute of Graphic Arts in 1914 as a small, exclusive club, AIGA now represents more than 20,000 designers through national activities and local programs developed by more than 65 chapters and 200 student groups.
ABOUT AIGA DETROIT:
AIGA Detroit has been a chapter of the national AIGA organization since 1986. The Detroit chapter has 475+ members with a network reaching out to the entire Michigan creative community including: designers, educators, art directors, web developers, printers, illustrators, photographers, artists and students. Through events, programs and initiatives, AIGA Detroit is demonstrating the value of design to businesses and the power of design in our culture. The Detroit Chapter is committed to the continued growth of an already vibrant, creative community and a rich design history here in Michigan.
BENEFITS OF MEMBERSHIP:
AIGA has been advancing the value of design since 1914, acting as the collective voice of the profession and providing numerous resources to members. AIGA membership offers great value, including tangible and intangible benefits: Savings. Information. Special offers. Community. Inspiration. Education. Representation. Validation.
Join today to contribute to the influence of design, further your professional development, connect with a welcoming community of peers, and gain access to many benefits such as products and services discounts, access to job boards, conferences and events, and more.
Click here to learn more about AIGA Detroit Member Benefits.
###