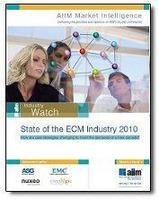 We have seen a tipping point in information management over the last year or so.
Silver Spring, MD (Vocus) May 21, 2010
For most new users of Enterprise Content Management (ECM) systems, the chaotic state of their documents, emails and electronic content is the final trigger to get things under control, according to the annual AIIM "State of the ECM Industry" report. While existing users are putting increased productivity and optimized business processes well ahead of compliance as the main justification for their ongoing ECM investment, new adopters are more likely to be galvanized by the need to take control of their proliferating file shares, email stores, web pages and paper records.
The 2010 AIIM survey shows evidence of strong growth in the industry, with 17% of the organizations surveyed implementing an ECM system for the first time and 17% in the process of replacing a legacy system. Microsoft SharePoint is playing a strong role, with 53% of surveyed organizations having SharePoint 2007 in use or in rollout, compared to 42% in last year's survey. However, the survey also points to the existence of considerable confusion as to where SharePoint is best used and how it fits with existing systems. There is also growing interest in open source systems, with a potential growth of 50% over the next two years.
"We have seen a tipping point in information management over the last year or so," comments John Mancini, President of AIIM. "For many organizations, their only hope of coping with the deluge of generated content from within and beyond their organizations is to invest in an ECM system. This will provide both management control and universal access to shared knowledge. Mobile-working, virtual meetings and team collaboration are driving the need for shared electronic access to core business knowledge though a single interface -- and it needs to be simple."
The survey results show that the use of Software-as-a-Service (SaaS) for document management is set to double from 6% to 12% in the next 18 months, but that some users are skeptical about cloud solutions for content management. Even with the availability of a corporate cloud or a government cloud, 50% would not even contemplate its use.
Based on over 750 responses, the AIIM research report is entitled "State of the ECM Industry 2010" and is free to download from the AIIM website at http://www.aiim.org/research. It is underwritten by ASG, EMC, Nuxeo and RivetLogic.
About the research
The survey was taken by 751 individual members of the AIIM community between March 12th and April 5th, 2010 using a Web-based tool. Invitations to take the survey were sent via e-mail to a selection of the AIIM worldwide community members.
About ASG
ASG provides a full range of practical software solutions that help IT organizations lower costs, save time, and make proactive decisions that drive business success. ASG partners with 85 percent of the world's largest companies to optimize IT service delivery in both mainframe and distributed environments. Founded in 1986, ASG is a privately held global company based in Naples, Fla., with more than 70 offices worldwide. More information at http://www.asg.com
About EMC
EMC Corporation (NYSE: EMC) is a leading developer and provider of information infrastructure technology and solutions that enable organizations of all sizes to transform the way they compete and create value from their information. Information about EMC's products and services can be found at http://www.EMC.com.
About Nuxeo
Nuxeo is a pioneer in open source ECM. Now entering its second decade, Nuxeo is committed to delivering an innovative and technically superior ECM platform, designed to address the full spectrum of content-driven business challenges. To learn more about Nuxeo - Open Source ECM, please visit us at http://www.nuxeo.com
About RivetLogic
Rivet Logic is an award-winning consulting and systems integration firm that helps organizations better engage with customers, improve collaboration, and streamline business operations. Through a full suite of solutions for content management, collaboration and community, Rivet Logic enables organizations to fully leverage the power of industry-leading open source software. Details at http://www.rivetlogic.com
Subscribe to AIIM RSS feeds at http://www.aiim.org/feeds
Subscribe to industry press release feeds at http://www.aiim.org/ResourceCenter/RSSFeed.aspx?Type=PRESSRELEASES
AIIM Market Intelligence blog: http://aiim.typepad.com/ecmbynumbers/
Beth Mayhew
Director, Marketing
301.755.2681
bmayhew(at)aiim(dot)org
Doug Miles
Director, Market Intelligence
+44.1905.727600
dmiles(at)aiim(dot)org
# # #